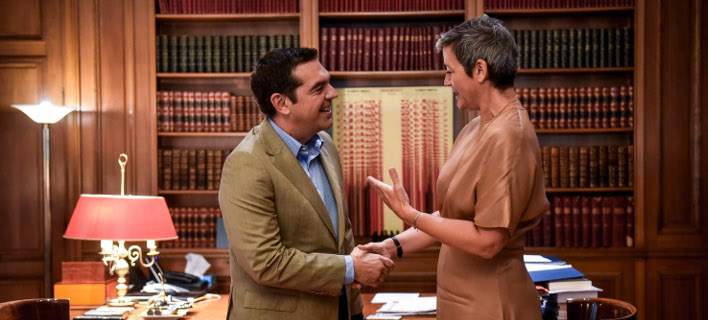 European Commissioner for Competition Margrethe Vestager met with Greek Prime Minister Alexis Tsipras during an official visit to Athens on Thursday.
The Commissioner said her talks with the Greek premier as well as with the main opposition leader Kyriacos Mitsotakis, Finance Minister Euclid Tsakalotos and other senior officials were "very good". She went on to thank the Greek Competition Committee and other authorities for their efforts to protect consumers.
Addressing Greek parliament, Vestager praised the Greek coalition government's efforts to turn around the economy, adding, however, that "there are still serious issues that need to be addressed, such as high unemployment, especially among young people".
The Commissioner said Greece was now entering a "new era", citing reforms in the country that will benefit consumers and enhance competition, such as the restructuring of Hellenic Railways (OSE), the redevelopment of regional airports, the reform of energy markets and reducing the cost of renewable energy.
Vetsager pointed out that "competition in [various] markets can make people feel that the game is played on equal terms."
In her meeting with Economy Minister Yannis Dragasakis – who also holds the post of deputy PM – the European Commissioner discussed the possibility of the EU system for regional aid being amended to take qualitative criteria into account when allocating funds. Athens is keen to secure funds to tackle unemployment in Greece, which skyrocketed in the crisis years.
Last year, the Commissioner went head to head with Greek ship owners over Greek shipping tax, with the industry arguing that EU plans were threatening the competitiveness of Greek shipping, which are basic parameters of EU policy for the maritime sector. The Greek ship owners union had said increasing taxes could push them to relocate abroad, outside the EU./IBNA