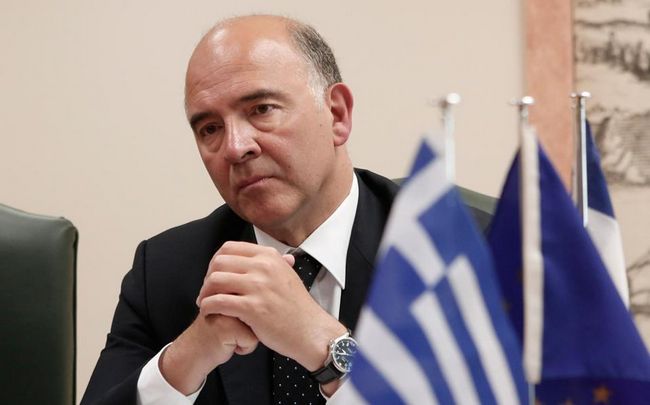 Athens, January 28, 2016/Independent Balkan News Agency
By Zacharias Petrou
European Economic Affairs Commissioner Pierre Moscovici said Thursday that the heads of the institutions are expected to arrive in Athens at the end of this week for the review of the Greek adjustment program.
Moscovici pointed out that the announcement's made yesterday about the improper implementation by Greece of border control rules and the refugee crisis, are not connected with the Greek program.
The Commissioner added that already work is being done by the technical groups of the institutions in Athens on "especially difficult issues" of fiscal targets and pension reforms were progress is being made.
Moscovici said he is in contact with Greek authorities, having met with A. Tsipras in Davos too. "Negotiations will deal with difficult issues and time will be needed but our aim is to comply with the schedule we have set" he said.
Triple threat
The Greek government faces a triple threat, having to deal with the difficult upcoming bailout review, the refugee crisis coupled by the threat of being "frozen out" of Schengen and the escalating protests and nationwide mobilizations by Unions, farmers and professional groups to social security reforms.
A report in the Huffington Post yesterday said the IMF would demand 15% pension cuts by Athens to begin any discussion on the bailout review with Greece. It is noted that the International Monetary Fund has still not said whether it will continue as a full bailout partner in the Greek adjustment program.
The government avoided commenting on press reports and mounting speculation concerning the IMF's demands.
However, Athens is determined to move fast on implementing agreed reforms and wrapping up the bailout review as soon as possible, when it eventually begins officially.
Social security
In a joint press conference on Thurday with the president of the European Parliament's Committee on Employment, Thomas Handel, Greek Labor Minister Giorgos Katrougalos said the government plans to table its social security reform bill in parliament on February 22.
"We have to honor our signature but with our choices", Katrougalos said adding that he hoped "negotiations with creditors will prove there is commitment to a Europe of prosperity".
On his part, T. Handel complained that "there are some parts of the European Commission that refuse to cooperate with the European Parliament in providing support to Greece [….] Greece is often demonized in Germany".