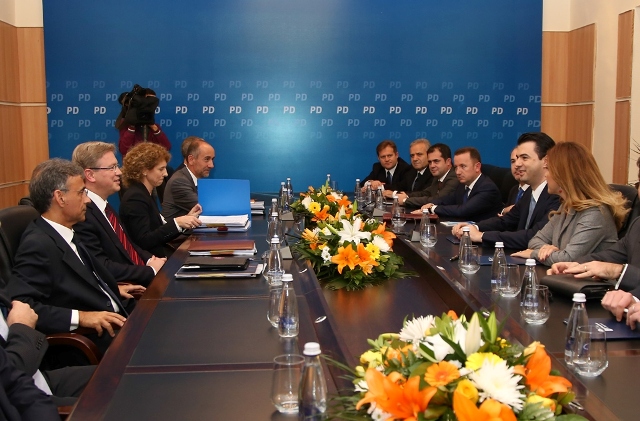 Tirana, November 12, 2013
Leader of opposition, Lulzim Basha received today in a meeting the EU enlargement commissioner, Stefan Fule.
Basha considered the positive recommendation issued by the European Commission as a major achievement and guaranteed the determination of the Democratic Party to continue its support and contribution in opposition, in order for the country to be granted the EU candidate status in December and open negotiations for accession as soon as possible.
Stopping on the "vote purchase" affair of the Socialist Party, the head of opposition said that today democracy is at risk from the sale and purchase of votes, unlawfulness, arbitrariness and lack of transparency.
Basha briefed commissioner Fule about the consecutive attacks of the majority against Constitution and rule of law, the aggressiveness against the opposition and the campaign of attacks against independent institutions.
In the meeting, Basha underlined the attack made by the majority to the consensus about the Civil Servant act through the anti-constitutional normative act, by desecrating the principles of dialogue and comprehension.
Contrary to yesterday's opposition which blocked for more than two years the process of integration, Basha said that DP is determined to do everything as far as meeting domestic criteria is concerned in order to accelerate the process of European integration. /ibna/