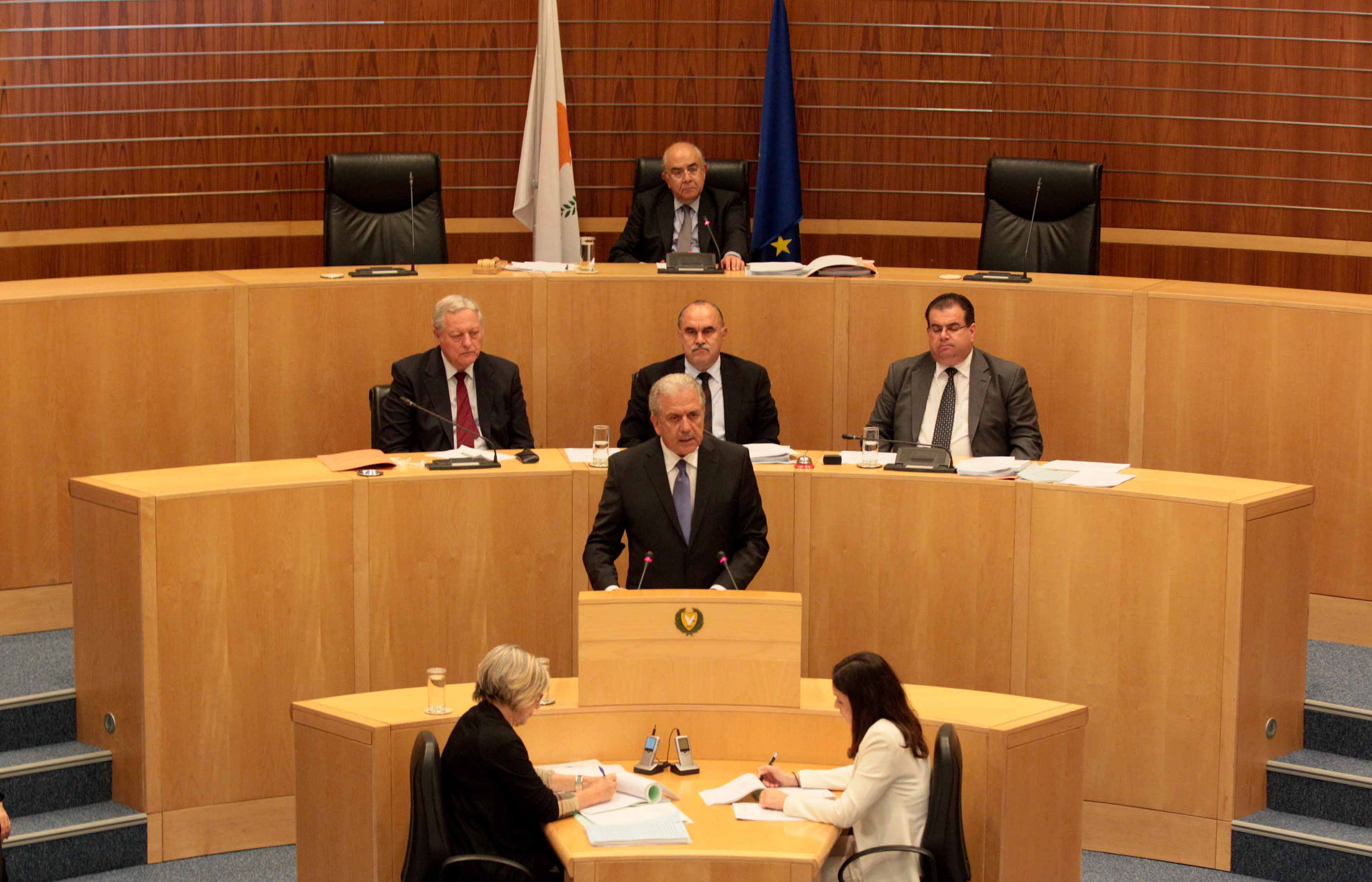 Nicosia, May 14, 2015/ Independent Balkan News Agency
By Kyriacos Kyriacou
EU Commissioner for Migration, Home Affairs and Citizenship Demetris Avramopoulos has sent the message that Cyprus does not stand all by itself as regards efforts to address the immigration issue, expressing Europe`s support to the Mediterranean island country. In statements after a meeting he had with Cypriot House President Yiannakis Omirou, Avramopoulos said that "this is proved in practice by the measures we are taking, the economic support and of course the support given to Cyprus` efforts to provide medical treatment to people and at the same time to protect our European boarders."
Speaking later on before the House plenary on  the "Immediate measures that need to be taken at the national and European level to address immigration crisis in the Mediterranean", Avramopoulos said that the Republic of Cyprus will receive from the Commission more than 32 million euros for the period 2014-2020 to implement actions regarding the asylum, immigration and integration, and more than 42 million euros for the "Internal Security Fund"  for the protection of boarders and police control.
He noted that this is a significant increase in Cyprus` financing, compared to the period of 2007-2013, adding that Cyprus ranks third among EU member states as regards financial support per capita as regards security actions, migration and citizenship.
Avramopoulos, who presented the new European Agenda on Migration, just one day after its unanimous approval by the College of Commissioners in Cyprus, thanked the Cypriot authorities for their cooperation.
On his part, speaking before the plenary, Omirou said that the unacceptable stance of Turkey towards Cyprus and the tolerance shown by the EU "question the determination of our partners", adding that Cyprus` occupation by Turkish troops undermines every effort to manage immigration flows to the EU via Cyprus.
Omirou noted that "we welcome the upgrading of EU operations in the framework of Frontex, even if this does not involve the assumption of an operational search and rescue role all over the Mediterranean." He underlined that all member states must show the necessary solidarity, as provided by the EU treaties.
In his statements earlier after his meeting with Omirou, Avramopoulos said that Cyprus is geographically too close to a region which is currently experiencing political instability, adding that it must therefore be able to feel the help and support of the European family.
Avramopoulos noted that thousands of desperate people choose difficult routes to reach Europe and are being exploited by criminal networks, noting that "one of our priorities is to save lives and at the same time create a framework of regulations for legal immigration."
He noted that after many years, Europe undertook the responsibility to submit a comprehensive and well-structured proposal which will become the framework of the migration policy, once it is approved by all member states.
On his part, Omirou, who decorated Avramopoulos with a medal, which is the highest honour of the House, thanked him for his steadfast and long-standing support to Cyprus and efforts to a solution to the problem of Cyprus, divided since the Turkish invasion of the country in 1974.