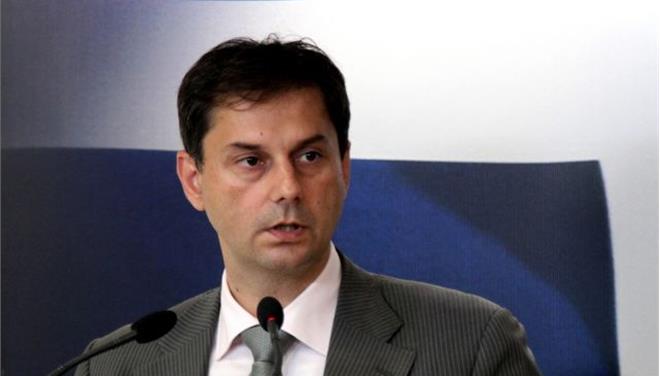 By Lefteris Yallouros – Athens
Greek Finance Minister Yannis Stournaras accepted the resignation of the general secretary for public revenues Haris Theocharis.
Haris Theocharis submitted his resignation to Stournaras during a marathon meeting the two men held from 11 a.m. until 3 p.m. on Thursday.
Theocharis said he resigned due to personal reasons. However, it is quite clear that he was asked to step down ahead of the cabinet reshuffle (which will probably be announced on Monday June 9th) the details of which PM Antonis Samaras and deputy premier Evangelos Venizelos are currently ironing out.
The outgoing Secretary General told reporters:
"The decision is mine; no one has the stature to ask me to resign. We are here for one and a half years; I have proved that I have created much. I have not (personally) taken any measures. The measures were taken by the elected government. I received damaged structures, and step by step, despite mistakes, I believe that the evaluation of the project will be considered as priceless. I don't feel like a scapegoat. If people look for scapegoats, they should take a look at their own deeds."
Stournaras praised Theocharis' efforts to support the tax reforms and added: "Most important, he did all this by showing consistent results, consistently exceeding all set targets, something that was reflected in the positive budget results."
The general secretary was hired in February 2013 for a five year period to head a semi-autonomous office within the Finance Ministry. He was instrumental in modernizing tax administration processes and managed to increase revenue from tax collection. Theocharis developed a good working relationship with troika officials as his department hit goals critical to the Greek reform program.
The European Commission was quick to express concern at the resignation of H. Theocharis. Spokesman Simon O'Connor said: "The Commission has taken note of the resignation of Haris Theoharis, the Secretary General for Public Revenues in Greece (…)It is essential that the government ensures full continuity in the delivery of planned reforms to improve the efficiency of the administration, combat fraud and evasion, and secure increasing government revenues. As Vice President Rehn has stated on more than one occasion in the past, this is not only a matter of economic efficiency, but also of social justice (…)We look forward to a rigorous, transparent and merit-based process for the appointment of Mr Theoharis' successor, to ensure high standards of integrity and independence."
Requesting the resignation of a government official with a proven track record whom the troika considered successful has puzzled many political analysts who see Theocharis being turned into a scapegoat in a rather populist move by the ruling coalition.