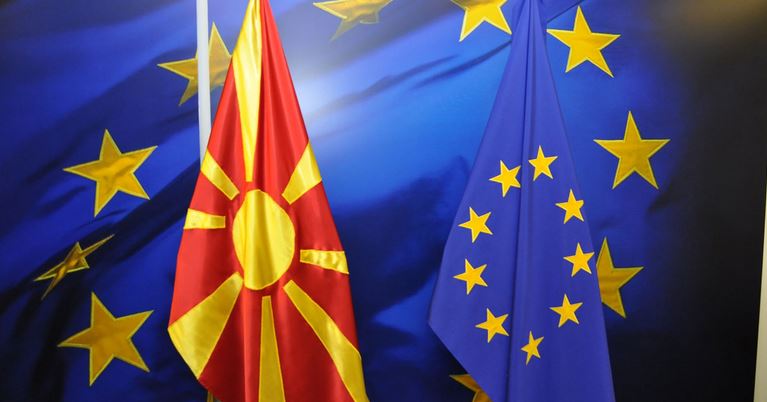 The conclusions on the enlargement in the Western Balkans were confirmed on Wednesday afternoon by the 27 EU ambassadors to Brussels, citing a "misinterpretation of history" and the use of the full name of North Macedonia as the Republic of North Macedonia.
According to analysts in the Belgian capital, Bulgaria's demands were incorporated into the conclusions with the help of the German presidency, reinforcing the view that Bulgaria sided with Germany on blocking the sanctions against Turkey.
Conclusions on EU enlargement froze over Bulgaria's veto in the negotiating framework with North Macedonia as a kind of pressure from Sofia, but Bulgaria's demands for a "misinterpretation of history" and the use of the complete official name on behalf of North Macedonia were adopted in the end.
The conclusions will be adopted by a written procedure, which will take 24 to 48 hours. The day before yesterday, the German presidency proposed a new text that includes Bulgaria's demand.
The final text proposed yesterday by the German Presidency on history is as follows: "The Council recalls the Prespa Agreement between the Republic of North Macedonia and Greece and the Friendship, Good Neighborliness and Cooperation Agreement between the Republic of North Macedonia and Bulgaria and emphasizes the importance of continuing their implementation. These two important steps should put an end to all allegations based on a misinterpretation of history".
This proposal did not appear in the conclusions until the end of November, but Bulgaria insisted, citing the conclusions of the 2018 EU Council, under its presidency, when this proposal was first mentioned after the signing of the Prespa Agreement.
Since then, this proposal has not reappeared in the EU conclusions until yesterday, following Sofia's insistence.
Part of this compromise is still in favor of North Macedonia, as some diplomats believe, as this proposal is not mentioned in the paragraph of the document referring only to North Macedonia, but is inserted in the preamble to the paragraph dedicated to regional reconciliation, but nevertheless, refers directly to North Macedonia.
The first version of the text of the conclusions from the day before yesterday uses the full name as the Republic of North Macedonia, in contrast to the previous draft conclusions when the short name, North Macedonia, was used. For all other countries, inside or outside the EU, the short form of the name is used, except for North Macedonia. This is also a demand of Bulgaria, which considers that the short form is irredentism from the Macedonian side.
Everything points to the fact that the Bulgarian veto prevents the approval of the negotiating framework and the holding of the first intergovernmental conference of North Macedonia./ibna