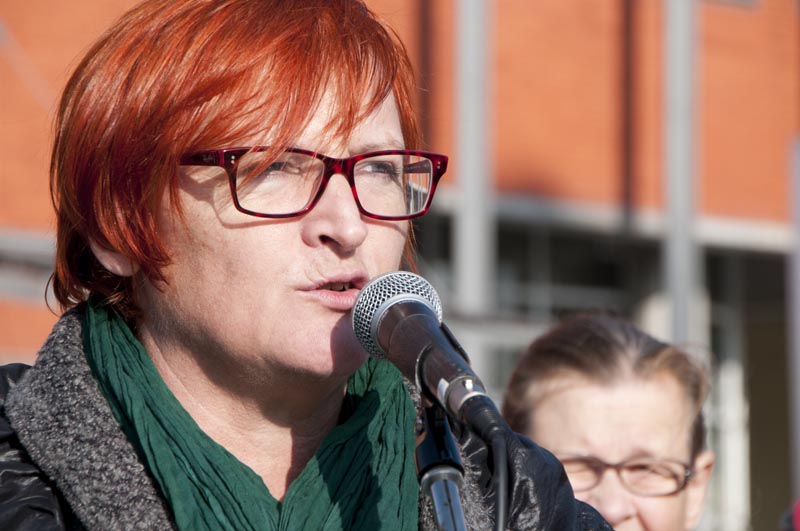 By Natasa Radic – Zagreb
Just as men did in the sixties and seventies – they went to Europe to seek the work on construction sites,  now it is the ladies' turn. Since Europe has weakened its social mechanisms, it is very possible that the highly educated women from Croatia and other SouthEast European countries will take care of someone's aging parents in the West and will be a lot less paid for the job. It seems to us that Europe is not the place of success for the young women – said Rada Boric(photo), the vice-president of the European Women's Lobby at the conference, "Who will represent the interests of women in the EU?"
The aim of the conference was to raise public awareness, and to stimulate discussion on gender inequality in the context of Croatia and European Union. This inequality is manifested as disparity in wages, insecure employment conditions and under-representation of women in representative bodies. The conference is part of a two-year anti-discrimination project for equality between women and men Ad Acte (Anti discrimination actions towards equality of women and men), which is implemented in cooperation with the Serbian National Council and the European Network for Gender Equality, which is financed by the European Union.
Croatian women represent 52 percent of the entire population in the country. Still, there are only 25 percent of them sitting in the Croatian Parliament, while the European Parliament's women make up one third of the entire number.
Results of the research that is organized by the Centre for Women's Studies and conducted by Ipsos pulse showed that more than 60 percent of respondents believe that women are being discriminated in Croatia and that they do not participate in sufficient numbers in politics and society.
Quotas as a specific measure that would change the rate of 25 per cent of women in the Parliament was backed by 85.4 percent of respondents.
Tatjana Broz of the Center for Education, Counselling and Research (CESI) said that even those political parties who were competing for the European Parliament elections have not touched the women's interest but rather the national themes.