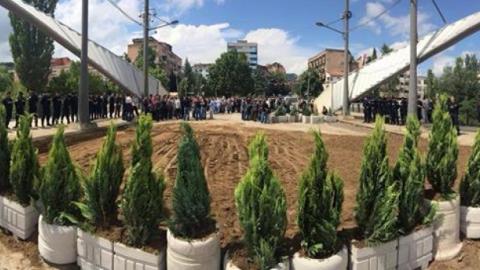 Pristina, July 23, 2014/Independent Balkan News Agency
By Elton Tota
Council of Minister's press office informed today on the result of yesterday's talks between the delegation of Kosovo and that of Serbia in Brussels on the issue of barricades.
In the bilateral meeting with the delegation of the Republic of Kosovo, the representative of the EU, Mr. Fernando Gentilini confirmed the stance of the EU that the barricades must be removed.
"Free movement must be enabled in full compliance with the laws of Kosovo and agreements that have been reached. Deputy prime minister Tahiri assures all citizens of Mitrovica that these obstacles will be removed and that the Iber bridge will be a national road segment, as it has always been, in order to secure free movement for the citizens", declared Gentilini.
In the three lateral meeting, after several hours of talks and with the proposal of the EU, parties agreed to lift barricades and on the revitalization of the bridge in a gradual process and a process in which the EU will be directly involved, including financial assistance on projects that aim to improve the life of all the citizens of Mitrovica, reads the press statement.
According to this statement, EU plan presented by the EU representative in Kosovo, Mr. Samuel Zbogar, for which the parties agreed, includes these points:
The laws of the state of Kosovo must be respected,
There must be a technical assessment of the static stability of the construction of Iber Bridge and
To draft a project for the revitalization of the Bridge and restore the bridge.
During the month of September 2014, experts contacted by the EU will come out with results to then continue with the revitalization and full functioning of the Iber bridge.
Parties also agreed on continuing the moratorium, which prohibits every kind of work or installment of barricades on that part and in case this moratorium is not respected, relevant institutions of the Republic of Kosovo will react by applying the law.
During this meeting, mayor of southern Mitrovica, Agim Bahtiri vowed that the situation in the bridge will be normalized as soon as possible and that the commune will do everything it can to cooperate with the government of Kosovo and EU to implement the EU plan in order to implement free movement. Meanwhile, mayor of northern Mitrovica, Goran Rakic vowed that he would cooperate in order to normalize the situation and implement the EU plan, agreeing that this plan is in the best interest of all the citizens of Mitrovica, reads the press statement. /ibna/