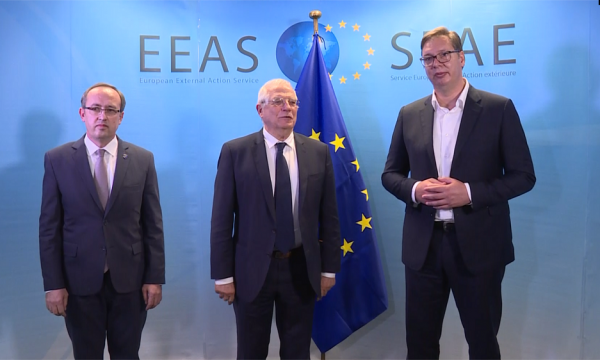 The European Union, in response to the Kosovo Express newspaper, clarified that Kosovo and Serbia will not enter into separate or partial agreements, as was the case in previous proceedings in Brussels, according to an Express newspaper article.
According to the EU, the full agreement will be signed only after an agreement is reached on all issues. The EU emphasizes that the issue of agreements reached in the past will be raised in parallel.
Following the meeting between Kosovar Prime Minister Avdullah Hoti and Serbian President Aleksandar Vucic, expert-level discussions kicked off, called political rather than technical. In the European capital, Kosovo is represented by Skender Hyseni, who was recently appointed state coordinator, while Serbia is represented by Marko Đurić.
Hyseni, who has been involved in almost all of Kosovo's negotiations, noted from Brussels that Kosovo does not accept a partial agreement and that it is discussing a comprehensive agreement to be signed at the end.
The EU also seems to be in favor of this negotiating model.
Responding to the Express newspaper, EU spokeswoman Nibala Massrali said the dialogue would end with a comprehensive agreement, and only when all problems between Kosovo and Serbia are resolved would it be enough to sign a final agreement.
"The EU, as a mediator in the dialogue, will co-operate with the parties for a comprehensive normalization of relations between Kosovo and Serbia, addressing all unresolved issues", a spokeswoman for the Express newspaper said.
During almost a decade of EU talks, Kosovars and Serbs have signed a number of agreements that have not been implemented. The EU, speaking of the final agreement, demands that the preliminary ones be implemented as well.
"The European Union and all its Member States expect the parties to implement all the agreements reached in the past. The unresolved issues in the previous agreements will be addressed in parallel in the negotiations for a comprehensive agreement", the EU response notes.
The issue that the Kosovar side is interested in resolving in Brussels is the issue of the missing persons, after the war in Kosovo. Prime Minister Avdullah Hoti also said he raised the issue in his first meeting with Serbian President Aleksandar Vucic two weeks ago.
In the EU, when the question of missing persons is raised, they say that neither this issue nor any other has a deadline and that all unresolved issues will be discussed until they are resolved.
"Kosovo and Serbia will sign a comprehensive agreement to normalize relations, after all issues have been discussed and everything has been agreed. "The road to the European Union for both sides goes through the EU's mediation dialogue", the response concluded. /ibna