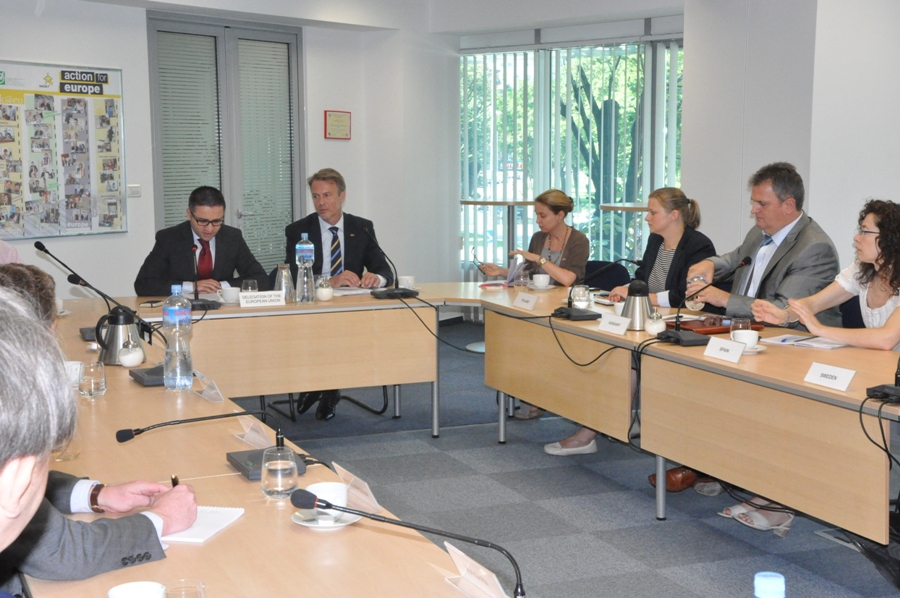 Skopje, June 19, 2013
EU member countries ambassadors in Skopje have met today with the Minister for Euro Integration Fatmir Besimi.
During this meeting, which also saw the participation of the EU ambassador, Aivo Orav, ambassadors discussed over the latest developments in the country and the results of the EU Summit which will be held at the end of this month in Brussels.
Unofficial sources inform that EU ambassadors have not had a unified stance as to what is expected to happen during this Summit and as to whether FYROM will be issued the date for the start of negotiations. But, on the other hand, sources within the ministry said that diplomatic signals have been sent according to which the country will not be able to start negotiations, due to the name dispute with Greece and as a result of the inter-neighborly open issues with Bulgaria.
According to the Ministry of Euro Integration, minister Besimi and the ambassadors held this meeting with the scope of discussing the progress of FYROM ahead of the June Summit of the European Council.
Minister Besimi has stressed that the government continues to implement its key priorities such as the high level dialogue with the EU, freedom of speech and freedom of media and the creation of the Commission which will shed light upon the events taken place on December 24 last year in the parliament of FYROM.
On the other hand, the EU member countries ambassadors have stressed the need of signing an inter-party Memorandum, which will determine the engagement of all relevant parties in the Euro integration process.
Besides this, the ambassadors of member countries stressed the importance of the efforts made by FYROM to promote good neighborly relations and the continuity of these efforts in order for both countries involved in the name dispute to resolve this issue as soon as possible. /ibna/