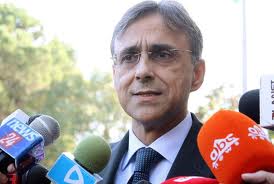 Tirana, July 2, 2013
The European Union ambassador to Tirana, Ettore Sequi has expressed his optimism that Albania may be granted the EU candidate status in December.
On his way out from the seat of the Socialist Party where he had a meeting with leader of this party, Edi Rama, the European diplomat said that, "we discussed on the European future of Albania and the challenges that your country has to face".
Sequi said that he talked to the future Prime Minister about the fact that the European agenda is a top priority of the new government. "I offered him the support of the European Union in order for this new agenda to be implemented. We also discussed about the fact that the new government should work hard and energetically in order to implement these reforms", said Sequi.
"I referred to Rama's eloquent speech when he said that inclusion will dominate instead of exclusion. It seems that these elections will make the spirit of compromise a new element of the Albanian political class. The country needs a good and smooth transition, which would focus all efforts on reforms", added Sequi.
Yesterday the European Union has been expanded to 28 countries after the accession of Croatia. According to Sequi, the experience of Croatia would be a good experience or an inspiration to Albania. "This shows that the European perspective of the countries of the region is open and promising. The integration process is a process based on merits", said the EU ambassador. /ibna/