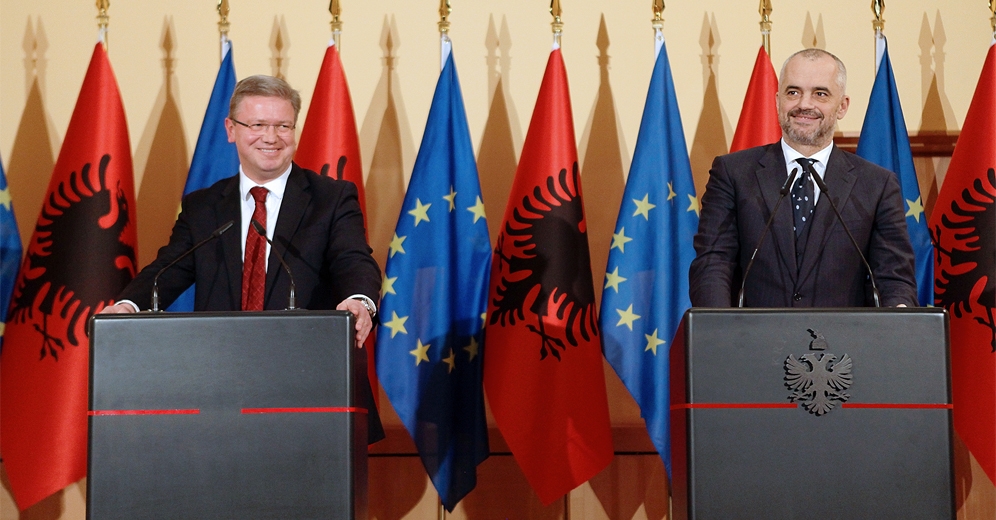 Tirana, March 6, 2014/Independent Balkan News Agency
EU Enlargement Commissioner, Stefan Fule said today (06.03) from Tirana that Albania is in the right path toward the EU candidate status, a decision which is expected to be taken in June.
In a press conference (photo) delivered after the second round of the High Level Talks, Mr. Fule praised the work done so far for the integration process.
"I have praised the work that has been done so far, especially those issues that relate to the key priorities. By continuing to work like this, Albania would be in the right path for the EU member countries to grant the EU candidate status for Albania in June, but the decision will be taken in June. This decision will be taken by 28 member countries, therefore it's necessary for this time to be used in order to move forward in this direction", said Fule.
Talking about the efforts made by the government, premier Rama said that the government is working to achieve those objectives needed about the status.
Rama also commented on the discontent about the refusal made to Albania's status by the EU last December.
"I'd like to assure our citizens and our partners that our discontent for being refused the status last December, has not had a negative impact. On the contrary, it has had a positive impact in order for us to continue in order to consolidate that impressive result that the government achieved in very few months up to December", said Rama.
Commissioner Fule warned a third meeting in Tirana, where the progress report will be presented. He said that the meeting will be take place in June without offering a concrete date. On June 24, EU is expected to decide for the fifth time if Albania will be granted the EU candidate status or postpone it once again.
The current majority and the opposition of former prime minister Sali Berisha have constantly exchanged accusations for a blockade to the process of integration. The strongest accusations have been launched by Berisha when the current prime minister, Edi Rama was head of the opposition, due to the long boycott made to the approval of several reforms demanded by the European Union. /ibna/