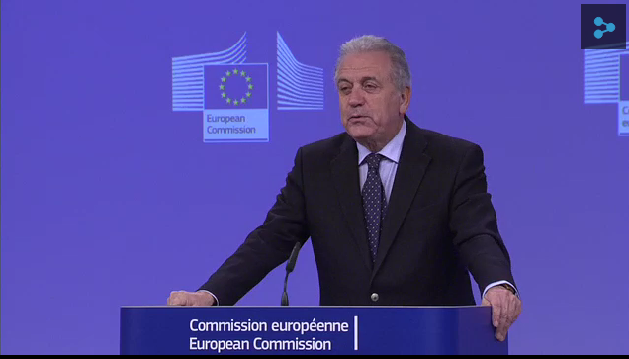 Pristina, 21 December 2015/ Independent Balkan News Agency
By Elton Tota
Following the strong reaction of state leaders in Kosovo, citizens of Kosovo have been signaled by the European Union that next year, they may travel without visas in the EU member countries which are part of the Schengen agreement.
European Union Commissioner for Home Affairs, Dimitris Avramopolos, published during the weekend the report that requires Kosovo more efforts in order to be granted the visa free regime.
"I am happy with the progress that Kosovo has made since 2014 in meeting its criteria, therefore I am convinced that the country will soon be able deliver the remaining requirements in order for the European Commission to propose the visa lifting at the start of 2016", Avramopoulos in a news conference in Brussels.
"I hope that this will be possible at the start of 2016. We must do our best to prepare Kosovo for the visa free regime", EU commissioner said.
Avramoupulos said that he will visit Kosovo in 2016, in order see for himself the extent in which Kosovo has delivered the necessary requirements.
"I don't think citizens of Kosovo must feel disappointed. Today we are issuing a strong and positive message for Kosovo", he said referring to the latest reactions in Kosovo, following reports that that Kosovo would not be granted the visa free this year.
Meanwhile, the deputy speaker of the European Parliament, Ulrike Lunacek invited the government of Kosovo to engage all efforts in order to deliver the required criteria.
"It's now up to the government of Kosovo to make all efforts in order to deliver the remaining requirements and convince interior ministers of the member countries and the European Parliament to agree on lifting the visas", she said.
Lunacek said that this institution will strongly support Kosovo.
Lunacek has welcomed earlier comments by Kosovo's deputy Prime Minister, Hashim Thaci on the EU very well.
"Blaming the EU will be counterproductive and I don't agree with this. I share the frustration of the citizens of Kosovo that the last report has not yielded the expected result, but we're closer than ever to success. There are very few criteria remaining and I strongly believe that by joining our forces, these requirements will be delivered at the beginning of 2016", Lunacek said. /ibna/