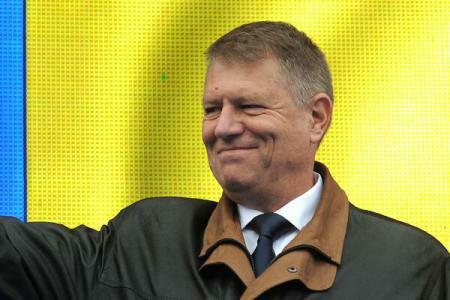 By Daniel Stroe – Bucharest
Romanians yesterday elected Klaus Iohannis, an ethnic German mayor of Transylvanian city of Sibiu, as their new president for a five year term, in a tense runoff in which rival Victor Ponta, acting prime-minister, lost amid fury among voters due to bureaucratic hurdles at polling stations abroad.
According to latest partial results issued by the Central Electoral Bureau, Iohannis, who represented the two-party Christian-Liberal Alliance (ACL), got 54.5 % of the votes, while Ponta was backed by 45.4 % of Romanian voters. The turnout was 62 per cent, which favored Iohannis, the largest registered over the past 14 years.
"Dear Romanians, you have elected me President of Romania. Thank you", slow speaking Iohannis said this morning in a press conference. "Thank you all for coming out to vote. It's been a phenomenal turnout, the greatest surprise", he added.
But the president-elect changed the tone rapidly and called on politicians to "get down to work". "I am calling on the Parliament to keep its promise and tomorrow table the law on amnesty and pardoning and vote against it and to examine all the applications sent by the justice and approve them all", he said. He also asked political parties to "urgently" start talks for a law on electronic and correspondence voting. "I don't want to ever witness what happened to the voting in the Diaspora. It is unacceptable. This has to be stopped urgently", he pointed out.
About 360,000 Romanians voted yesterday abroad, but tens of thousands were left outside the polling stations when they closed at 9 pm. Protests erupted in Torino and Paris and police used tear gas to remove furious protesters who saw deliberate obstacles set by Ponta's government so the Diaspora is prevented from voting. Traditionally, voters abroad choose center-rightist candidates and reject social-democrats seen as heirs of the former Communist Party. Iohannis called on the acting president Traian Basescu to recall those ambassadors in the countries where the voting process was disrupted.
Tens of thousands of Romanians also took to the streets last night to show support for the voters in the Diaspora. Iohannis himself quickly attended a rally in downtown Bucharest where about 15,000 people celebrated his victory. Masses of people also marched in Sibiu, Iohannis' home town and in other cities in the country.
The president-elect also sent Western partners "a good thought" and assured them he will continue partnerships that "are the pillars of Romania's foreign policy: the strategic partnership with the USA, our role and place in NATO and in the EU". "I will prove Romania is a serious, credible and long run partner", Iohannis underlined in today's conference.
Despite his clear victory, analysts say he will have a bumpy road ahead if the social-democrats, who won the parliamentary elections in 2012, won't withdraw from the government. Ponta said last night he will not quit his position as PM, but his dramatic loss has upset some party members who are calling on a serious analysis and then changes in the party. During the electoral campaign, Iohannis made it clear Ponta should resign, but, if not, he will have a correct institutional relationship with the prime-minister. In any case, Iohannis will have to deliver on the great expectations and hope voters have in him and prove his was not elected merely on an anti-Ponta ticket.