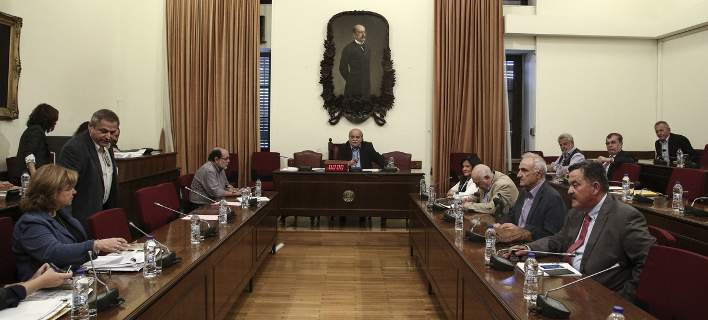 A Greek Parliament Presidents' meeting chaired by Nikos Voutsis was held on Monday that failed to achieve a 4/5 majority consensus to appoint a new board at the Νational Council for Radio and Television (ESR).
The government's surprise proposal of ultra-conservative former New Democracy minister and MP, Vyron Polydoras, for ESR president was withdrawn after opposition parties strongly rejected it.
Mr. Polydoras' nomination was politically controversial, even leading to reactions inside Syriza, besides the mass rejection by opposition parties. The government eventually backed down and proposed another candidate, ESR veteran Rodolfos Moronis, for president. The Moronis candidacy was voted down by the Parliament Presidents' council.
However, it is noted that the Moronis candidacy was very close to the 4/5 majority required (19 of 24 votes) as Syriza, Potami, Democratic Alliance and ANEL all voted in favor. New Democracy and KKE abstained while only Enosi Kentroon rejected it. Analysts point out that this is a sign that the deadlock may be broken in a future meeting of the Council should the government make another proposal.
Government sources maintain that if the attempt to establish a new ESR management fails again, the government may be tempted to table a new bill aimed at issuing temporary licenses to current and prospective stations at a price of around 7 million euros a year. However, some government officials – such as Interior Minister P. Kouroublis – have hinted that the government could decide to change the law stipulating how the ESR board is appointed.
In an earlier meeting with President of the Hellenic Republic, Prokopis Pavlopoulos, main opposition New Democracy party leader Kyriakos Mitsotakis called the current situation in Greece "extremely critical" and again reiterated his demand for snap elections.
"The only solution for the country to exit this political decadence which it finds itself is elections as soon as possible," he said, accusing the government of authoritarianism and undermining democratic institutions.
Meanwhile, State Minister Nikos Pappas submitted an amendment to Parliament that suspends part of the law transferring the authority for conducting an auction for television licenses from the National Broadcasting Council (ESR) to himself.
The amendment submitted by the government refers to a suspension of Article 2a of the so called Pappas Law rather than abolishing the law altogether as main opposition New Democracy has demanded after the Council of State ruled in unconstitutional.
Pappas defended his law, arguing that it had transferred the authority from the ESR to him because objections by New Democracy had prevented the appointment of a new ESR board./ΙΒΝΑ