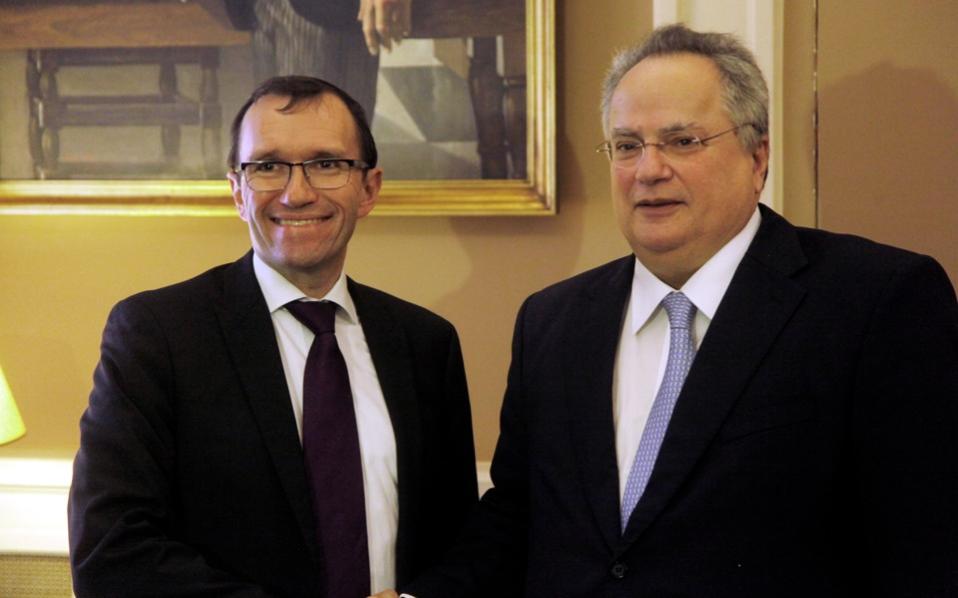 The Special Adviser to the UN Secretary General on Cyprus, Espen Barth Eide arrived in Greece onThursday. Following the meetings he had in Cyprus with Cyprus President Nikos Anastasiades and Turkish Cypriot leader Mustafa Akinci and the decision to prepare a new round of consultations at a political level in early March, the Norwegian politician is visiting Greece to discuss the latest developments with political actors and to meet with Greek Foreign Minister Nikos Kotzias on Friday.
According to IBNA information Mr. Eide, accompanied by his two advisers, met on Thursday with a known Greek businessman, who in recent years has been active in the rapprochement of the two communities in Cyprus. The meeting lasted over three hours and most likely involved a discussion on the latest developments in the Cyprus problem.
The UN special envoy for Cyprus on Thursday evening attended a dinner, hosted by the Norwegian Ambassador with guests ambassadors of EU Member States, where they were fully informed about the latest developments and the new meeting to be held in Switzerland on Cyprus.
On Friday, Mr. Eide will have successive meetings in the hotel he is staying in central Athens with politicians, while at 3 in the afternoon of the same day he will meet with the Greek Foreign Minister.
Mr. Eide, who according to IBNA information from the UN, does not meet the expectations of the new UN SG Antonio Guterres, expedites procedures, with the agreement of the leaders of the two communities in Cyprus, for the continuation of the International Conference on Cyprus in Switzerland./ΙΒΝΑ