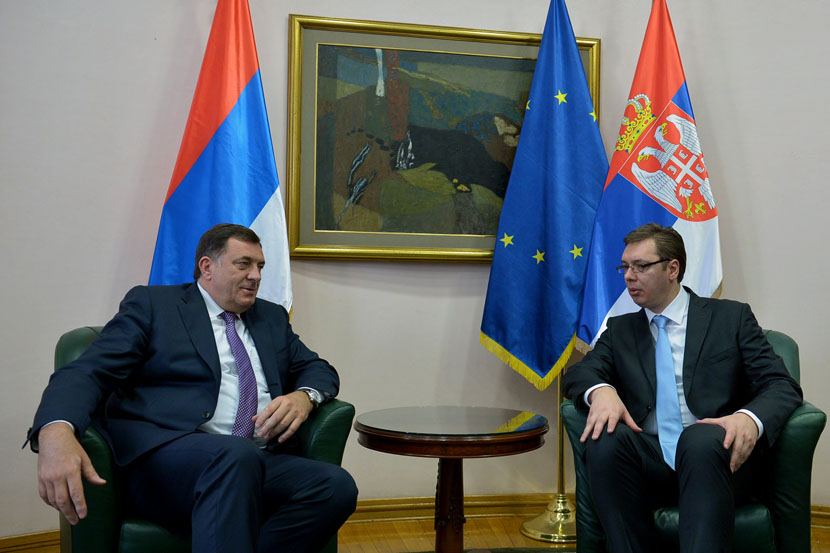 By Milos Mitrovic – Belgrade
The alleged statements by Turkish Prime Minister Rejep Tajip Erdogan on Bosnia, quoted by regional media and denied by Turkish diplomats, have sparkled tensions in Serbia and Republic of Srpska (RS), Bosnian entity. According to Bosnian media, Erdogan last week said that "100 million Turks will defend the Bosniaks if somebody touch them and that Turkish warships will sail into Neum (Bosnian port)".
"I swear to Great Allah that if anybody touches Bosniaks by any means he will face 100 million Turks as long as I am alive", Erdogan was quoted as saying by Croatian "Vecernji list" daily in its Bosnian edition and by some other media. According to accounts, Turkish PM was hailed by the "crowds of the Turks" shouting "Allah Akbar". The media did not specify where and when Erdogan allegedly held the speech.
Erdogan allegedly added that "in the distant past Turkey or Ottoman Empire delivered our brothers Bosniaqs  to the enemy without any kind of protection by Austria-Hungary", obviously alluding to 1878 handover of Bosnia-Herzegovina from Turkey to Austria. He then allegedly said that Turkey "failed the test again" probably alluding to 1995 Srebrenica massacre, which anniversary was marked last week.
"We have never forgiven this to ourselves and we will not. Therefore don't be surprised when Turkish warship sail into Neum, because this is our support to the sovereignty of Bosnia-Heryegovina", Erdogan was quoted as saying.
RS President Milorad Dodik reacted promptly by condemning Erdogan's "threat aimed to encourage Bosniaqs to conduct even more arrogant policy" towards non-Muslim population in Bosnia-Herzegovina. He underlined that Erdogan's alleged statement has been "a plain and brutal attack of the top official of the Republic of Turkey against the peace and stability in Bosnia-Herzegovina".
On Monday Dodik visited Belgrade for "urgent consultations" with Serbian Prime Minister Aleksandar Vucic and Foreign Minister Ivica Dacic.
After talks with Dodik, Mr. Vucic said he had previously met with the Turkish ambassador to Serbia Mehmet Kemal Bozay and that he had assured him that the reports on Erdogan's claims were false. Vucic said he "wants to believe" the claims were made up. However, Vucic appealed to Turkey "and the others" to refrain from comments that may jeopardize the stability in the region. He recalled Erdogan's "Kosovo is Turkey" 2013 statement that has seriously harmed the relations between Ankara and Belgrade and blocked the trilateral Serbia-Bosnia-Turkey initiative.
On Sunday, Vucic said that "any statements that endanger the fragile regional stability are inappropriate" and that he expects from the European Union and "especially from Germany" to support the peace and stability in the region.
FM Dacic said that threats from Turkey "are unacceptable for Serbia".
(photo: Web-tribune)