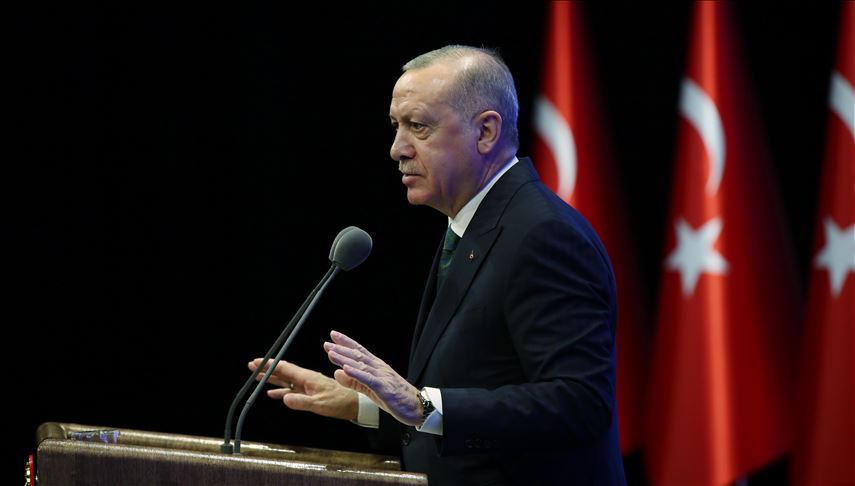 Phone conversation between Erdogan and Merkel
The Turkish Ministry of Foreign Affairs described the positions stated in the communication from the meeting of the five Foreign Ministers in Cairo as unrealistic.
According to the communication by Ankara, the statement issued following the January 8 meeting with the participation of the Foreign Ministers of Greece, France, Cyprus, Egypt and Italy is based on "unrealistic arguments".
"The Memoranda of Understanding we have signed with the legal government of Libya, which is recognized by the international community, are in accordance with international law and are lawful", the Turkish Foreign Ministry underlines in its statement. "These Memoranda of Understanding constitute a response to those who are trying to ignore our country and the Turkish-Cypriots in the Eastern Mediterranean. Indeed, the statement of January 8 once again revealed how right and correct the steps our country has taken in the Eastern Mediterranean really are".
The Turkish Foreign Ministry claims that "Turkey, which has the largest coastline in the Mediterranean, has a say in the plans established the region. On this occasion, we would like to reiterate that we are ready to cooperate with all countries, except the Greek-Cypriots, in order to transform the Eastern Mediterranean into a field of cooperation, not conflict".
Erdogan: "Our security starts beyond our borders"
The statement by Recep Tayyip Erdogan was in the same vein, who said that Turkey had ruined the plans "envisioning to trap Turkey in the Gulf of Antalya. And we did that firstly with the agreement with the 'Turkish Republic of Northern Cyprus' and secondly with the agreement with Libya".
Referring to the plan to send Turkish troops to Libya, Erdogan stressed, "We are in these territories (Libya) where our ancestors wrote history, because they called us there to dispel injustice and persecution".
He added that his country would "answer in the best way" to those who do not understand that Turkey's security begins beyond its borders, rejecting the criticism that his decision has caused.
Recep Tayyip Erdogan had a phone conversation with Angela Merkel, and according to Turkish Presidency sources the refugee issue, as well as developments in Libya, Syria, Iran and the issue of the Summit on Libya were raised.
Tripoli Blames Greece for the Agreement with Turkey!!!
The Permanent Representative of Libya to the United Nations, Elmahdi S. Elmajerbi, in a letter sent to the UN Secretary General, blamed Greece and its Governments throughout time.
In this extensive note, Elmahdi S. Elmajerbi sets out the legal arguments and explains the background to the signing of the demarcation memorandum with Turkey signed on 27 November 2019 by the Government of National Agreement. He specifically accuses Greece of "completely ignoring the rights of Libya and rushed to establish with its allies the East Med Gas Forum, in order to conclude agreements and exploit regional tensions so that it could de facto impose a monopoly in the production, liquefaction and transportation of gas".
The Tripoli government states in the letter that "since 2004, Libya has held four rounds of negotiations with Greece with the participation of experts from both countries. These negotiations did not work out, because Greece insisted on demarcate its maritime jurisdiction over Libya on the basis of extremely small uninhabited islands without legal significance. Greece insisted on drawing a median line based on these excesses of islands and refused to apply the principle of proportionality used internationally in such situations. Correspondence between the two sides continued until 2014". /ibna