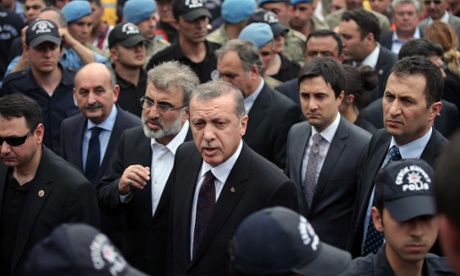 By Manolis Kostidis – Ankara
The Turkish public appears troubled regarding the behavior of the Turkish Prime Minister towards the citizens, even the President of the Lawyers Association of Turkey. The Turks were accustomed to Recep Tayyip Erdogan's verbal outbursts like "how can you talk so the Prime Minister like that, how dare you" etc.
But the images broadcasted on the turkish television networks have shocked the public opinion in Turkey.
The Prime Minister verbally attacked the President of the Lawyers Association of Turkey Metin Feyzioglou calling him a "liar".
"You are out of line. Enough. You are giving a political speech", Erdogan shouted to Feyzioglou, who then accused of lying and of speaking more than his allocated time.
"What you say are inaccurate. How can you be so rude?", Erdogan went on and immediately stood up gesturing angrily, while Feyzioglou remained in his place and refused to discontinue his speech.
A week after that, Erdogan appeared to punch a protester in Soma calling him "semen of Israel", and what's more, on the same day approached another saying "you cannot talk like that to the Prime Minister or else you will be slapped!"
When there is a national tragedy like the one in the coal mine in Magnesia's Soma with 301 dead, what one would expect from the Prime Minister would be to express his sorrow for the accident, promise that the ones responsible will be punished and be more tolerant to any possible protest. This is not what happened.
The Turkish Prime Minister appears to be temperamental. He does not tolerate protests. His advisors know this. In order to protect his profile they could have advised him against visiting the area or to avoid contact with the world. They did not.
What one can observe in the psychology of the Turkish Prime Minister, as political analysts point out, is that he has gained some kind of phobia about his power. Especially after the events in Gezi Park that had started on May 31, 2013 and of course after the revelations of the financial scandals that led to the resignation of four of his government's ministers.
"Basically, we have a mixed state of confidence and uncertainty. Of similar mentality are the people in the Prime Minister's environment, who think themselves above the 'king'", says Russen Cakir columnist of the newspaper Vatan.
"Erdogan supports his own people even when they make mistakes. But this attitude in the long run will definitely bring negative results. That is what he had done with the scandal that had erupted on December 17, 2013 and then they were forced to resign", says Cakir.
The big question is what will happen in Turkey's political scene if Erdogan runs for president (as expected) and is elected in the elections next August.
Undoubtedly, Turkey has experienced a significant growth in its economy during the government of Turkish Prime Minister, while at the same time he has changed a lot in regard to the powers exercised by the Armed Forces in politics.
That is why until recently, the Turkish prime minister had the support of many intellectuals, columnists, etc, who have no affiliation with his party.
But in recent months he has starting to lose this support as many of them claim that the country "with Erdogan concentrating so much power can be led down dangerous paths".
"Twelve years, three national elections, referendums. A state in which all 'castles' have been captured and a government that operates in an authoritarian manner. Which 'castle' has not been conquered, which 'shelter's door' has not been broken yet?", Ertugrul Ozkok wonders in Hürriyet.
These thoughts cause distress concerning the presidential elections in Turkey and Erdogan's plans, who does not keep it a secret that if elected he will exercise all the powers granted upon him by the Constitution.
P.S. "Semen of Israel" is of the insults fanatical Islamists sometimes use. It is a heavy and pejorative word containing with anti-Semitic meaning.
Erdogan, in his rage uttered this phrase and the question that remains is why he did this, since he has stated many times that he respects the ethnicity and religion of every person.