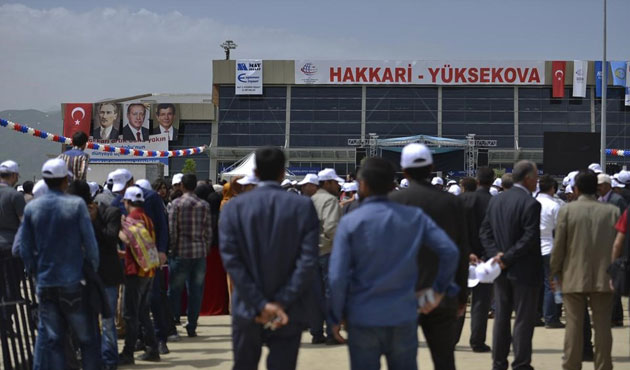 Ankara, May 26, 2015/ Independent Balkan News Agency
By Manolis Kostidis
Serious episodes broke out in the city of Hakkari in the Yuksekova region of Southeast Turkey, shortly before the arrival of Recep Tayyip Erdogan and Ahmet Davutoglu, who inaugurated the new airport of the region.
According to Turkish media the locals, almost all of them Kurds, closed their shops to protest. About 50 masked men who had gathered at a street of Yuksekova, threw stones and Molotov cocktails at the police who responded with tear gas and pressurized water.
Ahmet Davutoglu announced that the airport will be named Salahuddin Al-Ayoubi, who conquered Jerusalem in the 12th century from the Crusaders. It is considered that the AKP is trying to win the votes of Kurds using Islamic symbols against the nationalism of the Kurds. "Here we are sending the message that Jerusalem will always belong to the Muslims", Davutoglu said.
In the elections of 2011, in the city of Hakkari the Kurds independent MPs had received 80% of the vote!
The prefecture of Istanbul forbade the big election rally of the Kurds!
The prefecture of Istanbul did not allow the HDP to conduct an election campaign rally, in the district Kazlicesme of Istanbul on May 30. The specific space has been created by the Turkish government and Erdogan has used it in the past for political gatherings.
In the past, the unions that wanted to have demonstrations in Taksim Square, where asked by Erdogan to go to protest in Kazlicesme. Political analysts believe that the ban on election campaign rally is an attempt of the AKP, to block the efforts of the HDP to win the votes of the Kurds of Istanbul.
In the parliamentary election of June 7, if the IDP exceeds the 10% threshold and elects MPs, the ruling AKP would have to win with about 43% of the vote to have self-reliance. Without the HDP in Parliament, the percentage needed would be around 38%.