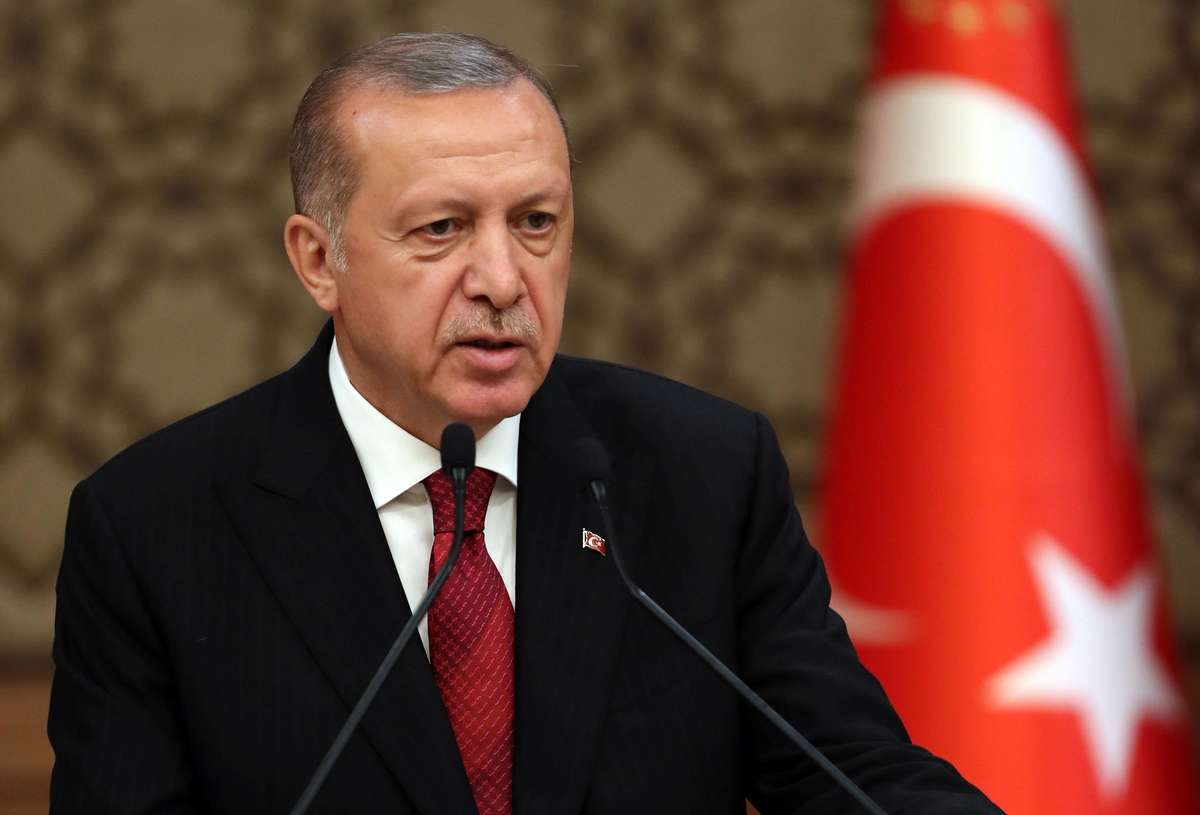 With one statement behind the other, Recep Tayyip Erdogan threatens to flood Europe with a new refugee wave, in the event that Ankara is not supported by Western countries.
The striking element of this attitude by the Turkish President is that large portions of the public support it.
"Up until today, I did not endorse such an extortion. I believed that refugees should not become tools of coercion or blackmail. But the West's unethical and indifferent attitude is starting to annoy me. And I have come to believe that this is the only language they understand, and Erdogan's statement is one that will make them get it", Hurriyet's best-known columnist Ahmet Hakan reports in his article.
Speaking to Justice and Development Party officials, the Turkish President, after stating that about 4 million refugees live in Turkey, he then went on to express skepticism regarding developments in Syria's Idlib, as there are already refugee movements from that area towards Syria.
"But do know that this path will take us to different points. What is this point? Either this will be put in effect, (the safe zone) or we will have to open our gates. Support us or misjudge us. Up to a certain point, we can tolerate it. We cannot lift that burden on our own. Come see what it's like to lift that weight with us. We have not received the support that we need from the EU or from the rest of the world, and in order to get it we might have to do that", Erdogan said.
Financial issue, Idlib and the Turks' reactions
Political analysts believe that this statement has three purposes. Firstly, to pressure the EU into sending more financial aid towards Turkey in support of the refugees. Yet Ankara claims not only direct financing but also investments by European companies in the country.
The second objective is to create a safe zone within Syria and thus push to "get the green light" from the US and EU. When it comes to Idlib, Turkey feels trapped. The forces of the Free Syrian Army day by day succumb to Assad's forces. The Syrian government forces have also handed over one of the guardianships of the Turkish armed forces of Syria, which is guarded by Russian forces! (jail number 9). Threatening the EU and the US with a new refugee wave, the Turkish President looks to protect his allies in Idlib and calls on the West to halt Assad's military advance.
A third goal is to appease the Turkish society, which is starting to react to the presence of so many refugees in the country. The country's economic downturn has grown these reactions stronger. It is no coincidence that Turkey's Interior Minister Suleyman Soylu had tackled the issue of the removal of 100,000 refugees from Istanbul, a city of 18 million residents.
"We are not guards"
To further reinforce and provide more details on this case of extortion, Turkish Prime Minister Fuat Oktay stressed that "our president's statements are neither a threat nor a bluff, but rather a reality.
It is wrong to think and be comfortable saying that "if there is a new wave of immigrants, Turkey will face it". Turkey is not anyone's guard, no region's, no country's. It is not their center of immigration and it is not the country that will pay for a crisis that they themselves have caused. If the crisis in Idlib continues and a new wave of migrants begins, Europe has no chance of escaping, the possibility for this to happen is zero percent. This one, it has to face it", Oktay said.
By the end of September
Turkish newspaper Karar claims that Ankara will expect some moves on both the financial issue and the Idlib issue. In the event that its demands are not met, the newspaper claims that refugee waves to Greece will increase.
The article by Hurriyet analyst Sedat Ergin is striking. He refers to a scenario he projects. "First, Turkey's departure from the southern and eastern regions of Idlib. Alongside handing over the M-4 and M-5 highways, that open the Aleppo exit to Damascus and the Mediterranean. In return, Turkey will be granted its own safe zone inside Syria as well as the transportation of all troops further north".
This scenario was voiced by Russian analysts at the AlMonitor website on August 26, and provides for Idlib's control by pro-Turkish forces. This will allow Turkey to create a safe zone next to its borders and thus be able to "slow down" the refugee wave.
The publication of this draft that is yet to be finalized may be among those to be discussed on September 16 at the meeting Erdogan will have with the leaders of Russia and Iran in Ankara, regarding developments in Syria. /ibna