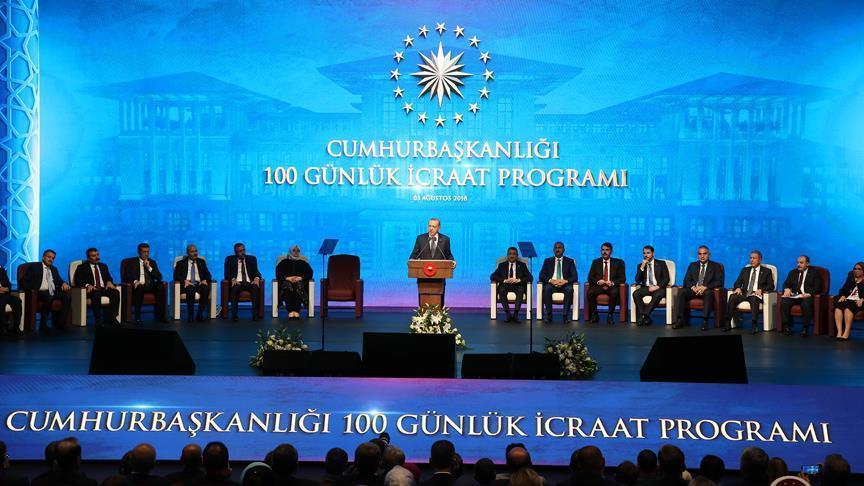 Earlier on Friday, President Recep Tayyip Erdogan unveiled the first 100-day action plan of Turkey's new presidential cabinet in the capital Ankara.
Addressing attendees at the presidential complex, Erdogan said, "Today, we are announcing our first 100-day action plan. We are planning to unveil our medium-term program by the end of August. We have kicked off our works for the strategic plan covering the 2019-2023 term. We aim to have finalized it by the end of November. The 100-day action plan has been coordinated by Vice President Fuat Oktay. Each and every one of our ministers has thoroughly reviewed the projects and plans related to their own areas of responsibility as well as the commitments made in the Presidential manifest and in the AK Party's election declaration. We have gathered together in lists what we will do in 100 days along with their budgets. In fact, the number of the projects to be completed in the first 100 days surpasses one thousand. Yet, we mention 400 of them, which we deem more important and of top priority, in the program that we will announce to our people."
Turkey's Defence industry has a central role in this new era or the presidential government.
"We will not compromise our defence projects"
"Institutions, directly affiliated with the Presidency, aim to complete very valuable projects within 100 days," President Erdoğan said. "I attach special importance to defense projects. 48 of the 400 projects, included in our plan, belong to our defense industry."
"Every incident we experienced in the last five years proved us time and time again the importance of defense industry projects. Having a large army equipped with the newest weapons is not meaningful on its own. In addition to that, all vehicles, ammunitions, software must be under your control on all stages for your army to be strong. In order to achieve that, we have been working to build a self-sufficient defense industry while also switching to a personnel structure based on expertise in our military's critical units. We are pleased to see how far we have come in the last 16 years but we also know that we still have a long way to go. Therefore, we will not compromise our defense projects", President Erdoğan said.
Regarding the judicial system the head of state stressed, "We have come a long way in recovering from the destruction that FETO [Fetullah Terrorist Organization] caused to our judicial system".
Among other topics, he referred to major projects characteristically saying that "within the scope of action plan, the environmental impact assessment and survey project works of Canal Istanbul will be submitted for approval." This "artificial sea-level waterway that will connect the Black Sea to the Sea of Marmara and the Mediterranean, is planned to be completed by 2023."….. / IBNA
For more on the the 100-day action plan, please click here.
Main Photo: The Turkish President at the presentation of his "100-day action plan", Ankara, August 3, 2018