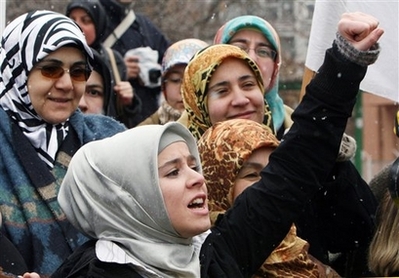 The Turkish President "attacks" the feminists
By  Manolis Kostidis – Ankara
After the theory of the discovery of America by Muslims and not by Christopher Columbus, which he  explicated last week, Recep Tayyip Erdogan with another statement changed the front page news in Turkey!
This time the Turkish president claimed "that women by nature cannot be equal to men" and stressed that "Islam has given the role of motherhood to women".
Erdogan also "attacked" the feminists and claimed that "you cannot mention this issue to the feminists, they won't understand it, since they do not accept motherhood. But we will continue our journey with those who understand us".
"You cannot ask a woman to do the same job as a man, as did in the old communist regimes. What can one do, give her a shovel and force her work?", argued the Turkish president.
"Their character (men and women), their habits and their physiology is different… you cannot put a nursing woman in the same position, with the same demands, with a man who does not have the same responsibilities", he said.
Erdogan made these statements in a conference on Women and Justice and the majority of the audience consisted of women.
Erdogan, at every opportunity, especially at weddings he attends as a guest, recommends the Turks to have at least three children.
In Turkey the percentage of women working is just 29%, based on data from the World Bank, against a 54% in Germany and a 57% in the US.
The Justice and Development Party is based on women
Despite Erdogan's statements that the position of women in society is motherhood, but they play an important role in the Justice and Development Party, which he founded.
Political analysts have said many times that an important role in the political success of the AKP, have played the local women's organizations in all over Turkey. These women (most of them wearing headscarf), with impressive organization, visit people's residences and ask for the vote of citizens , hear the complaints and desires of the people and send them to the central Committee of the Party.
The wife of the Turkish president Emine Erdoğan has never worked.
The wife of the Prime Minister of Turkey Ahmet Davutoglu, Surrey Davutoglu, is a gynecologist and practices her profession.