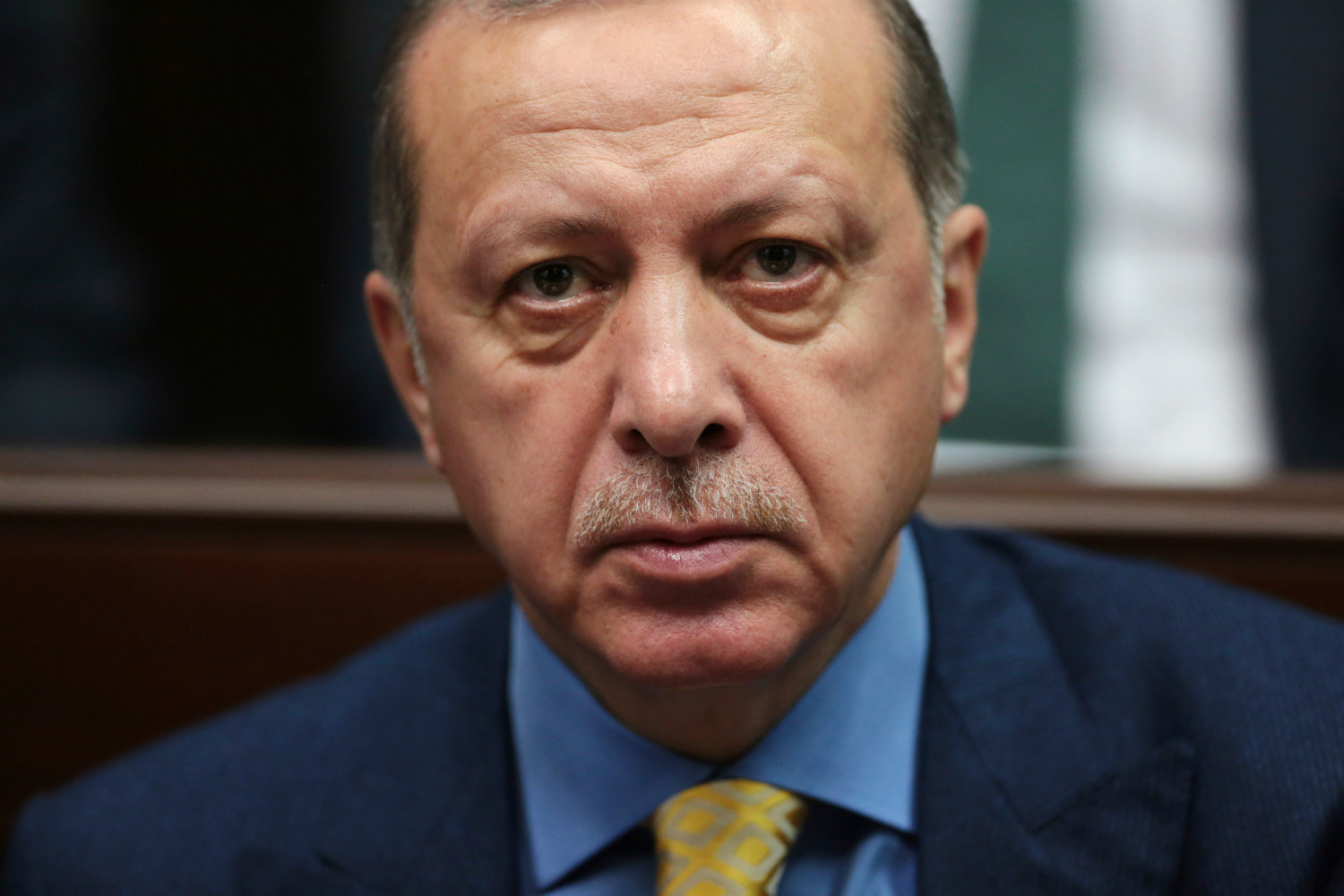 Recep Tayyip Erdogan attacked Greece and Cyprus indirectly but the hard way, arguing that they are trying to exploit Turkey's military operations in Afrin. 
"We have not allowed and will not allow some in our immediate environment to behave irresponsibly, especially in the Aegean, Cyprus and in the wider region, as some are looking for an opportunity because our security attention has shifted elsewhere", the Turkish president stated in a speech he made at a conference on energy.
The Turkish president said Ankara built one of the world's largest (230-meter-long and 32-meter-wide) survey vessels, which according to Erdogan will soon begin exploring the Mediterranean (waters).  
"Our drilling vessel will be heading to the Mediterranean shortly… No one can violate the rights of the Turks in Northern Cyprus", Erdogan said.    
The Turkish head added that the construction of the Akkuyu Nuclear Power Plant would begin within the year. "We will lay the foundation together with Putin," Tayyip Erdogan noted. A similar statement was made in November 2017, when he had said he would establish the Akkuyu nuclear power plant at the end of that month.
The Turkish President referred to the issue of Cyprus in a speech at the presidential palace, saying "I know we will show the same determination in the hydrocarbon reserves in the Mediterranean to protect the rights of our country and of the 'Turkish Republic Northern Cyprus'. We will move on together. We will invest in it together. The delegation that will be formed, the team that will be formed, will make drillings for everybody and, whatever will be found, will be divided in two between the Northern and Southern Cyprus, according to their population." What Erdogan said is perhaps an Ankara proposal for sharing the profit from potential gas earnings between the two sides, however, without the solution of the Cyprus problem.
Turkish Foreign Minister Mevlüt Çavuşoğlu, also referred to Cyprus and the drillings in its EEZ, noting that, "the Greek-Cypriot side should stop the research. We will not allow unilateral actions."
The statements come at a time when ExxonMobil's ships have gone for research drillings in Cyprus' EEZ , while the U.S. has strengthened its fleet in the area with the Iwo Jima vessel. The ship is anchored in Limassol, and has been patrolling the Eastern Mediterranean Sea for days, participating in a joint exercise with the Israeli navy and the country's air force.
Anyhow, information from Turkey indicates that the new survey vessel acquired by Turkey will not start its journey soon as the personnel has to trained first and the ship must be prepared accordingly. Experienced analysts believe the 'trip' could begin in May, but until then, developments will also be determined at a diplomatic level. In addition, it will be important to know where the research will take place…. / IBNA