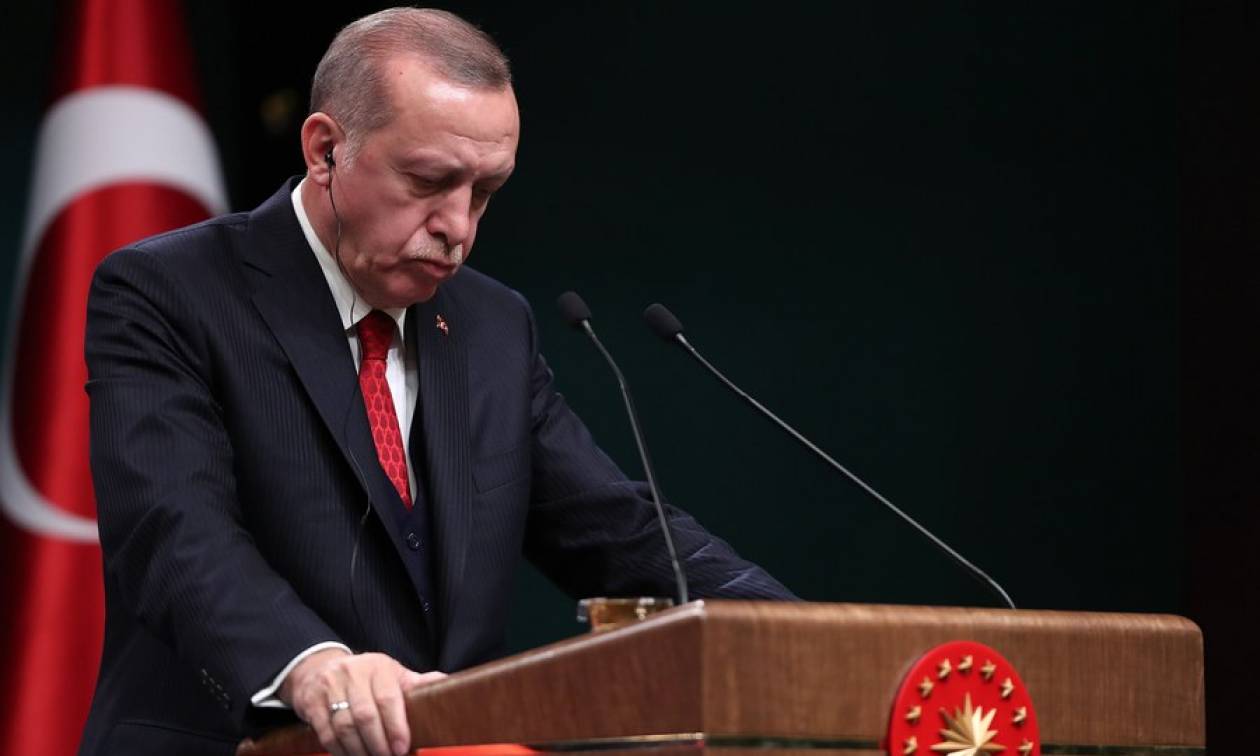 Just a few hours before his meeting with Vladimir Putin, Recep Tayyip Erdogan stated that Turkey had already "cleared an area of ​​1500 square kilometers from terrorism" and stressed that the country did not make a deal "with a terrorist organization but with the US". The Turkish president, speaking to Rize, refrained from disclosing any details regarding his meeting with his Russian counterpart in Sochi scheduled for Tuesday.
However, this meeting is rather important, as Ankara has agreed with Washington on a 120-kilometer-long safe zone, while it will discuss with Russia about the remaining 320 kilometers controlled by Assad's forces with Russian help. Turkey seeks for the Syrian Kurds to retreat to a depth of 30 kilometers across the 440km-long region.
"From the north to the south, 32 kilometers deep. From the Iraqi border to Jarabulus, 444 kilometers. This is our safe zone. We will keep this buffer zone under our supervision", Erdogan said; yet Moscow's take on the matter will also be interesting to watch.
"We respect this agreement. It provides the withdrawal (of Kurdish fighters) within five days and we have asked our American colleagues to use their influence and their connections to ensure that they (Kurdish fighters) leave orderly", Turkish Presidency spokesman Ibrahim Kalin commented in an interview with the French News Agency.
Syrian Kurds accuse Turkey of violating the agreement by continuing the bombings, yet Kalin placed the responsibility for "all the incidents" on the YPG forces. "Our military is in touch with their (US) counterparts to ensure that the YPGs leave without a fight", he concluded.
Against this backdrop, Turkey's Defense Minister Hulusi Akar has once again responded to accusations against Turkey of using chemical weapons during operations against the Kurds.
"The shameless, immoral, despicable, are taking photos saying that the Turkish army did this to children and that to women. One photo was revealed to be from Vietnam, the other from Afghanistan or something like that.
This time with fake news they are talking about chemicals. The Turkish army does not even have a gram of chemical weapons. Nothing at all", Akar stressed.
Turkish Foreign Minister Mevlut Cavusoglu said that "what we want to see is that 120 hours from now not a single YPG / PKK terrorist has been left here".
"What I mean is that the YPG / PKK members should not try to stay here using different names. We monitor everything in that area. We will do whatever it takes. With this operation, our goal is to eliminate every concern regarding the safety of a 444km-long area up to the Iraqi border", Turkish Foreign Minister Mevlut Cavusoglu continued.
The Turkish Foreign Minister's comments regarding the Trump-Erdogan relationship made news, as he said that "Trump loves Turkey and our president. He recognizes that our president is a difficult leader. He admits he is right. I think Trump actually admires our president. Trump is wondering how our president has so many people backing him up", Cavusoglu added.
On Sunday, the Turkish President held a telephone conversation with British Prime Minister Boris Johnson regarding the developments in northern Syria.
The Turkish newspaper Turkiye published on its frontpage Turkey's plan to transport refugees to the safe zone, estimating its cost at 23 billion euros, which claims that the EU countries will have to pay. The pro-government newspaper talks about the construction of 140 villages of a capacity of 5,000 residents each!
US forces have withdrawn from their largest base in northern Syria as part of the wider withdrawal of about 1,000 troops from the area, a Washington-based correspondent reports.
More than 70 armored vehicles carrying the American flag and carrying military equipment, accompanied by helicopters, crossed the international route passing through the town of Tall Tamr.
Yet the first withdrawal of Kurdish fighters and civilians from the city of Ras al-Ayn has also begun.
A spokesman for the Syrian Democratic Forces, Kino Gabriel, said militants had evacuated the northern Syrian city and no longer had an armed presence in the area.
Turkey is also confirming the withdrawal, with the Turkish Defense Ministry issuing a statement which declares that "about 55 vehicles entered Ras al-Ayn and 86 vehicles left for Tall Tamr". The Turkish ministry also released images of the Kurds' departure. /ibna