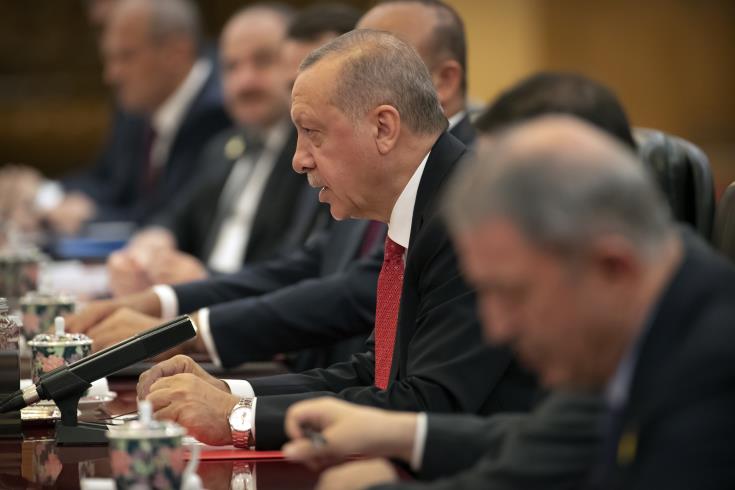 Του Μιχάλη Μιχαήλ
Cypriot Defence Minister asked for the inclusion of Eastern Mediterranean in the "areas of interest" for EU navy development
"We are ready to destroy all the traps set up against our country in northern Syria, Iraq and the eastern Mediterranean", Turkish President Recep Tayyip Erdogan said in a message on today's national anniversary for the independence of Turkey in 1922.
The Turkish President said in his message: "We will certainly not allow the usurpation of the rights of our nation and the Turkish Cypriots", adding that "our nation, as it was yesterday so is today, is ready to make the same sacrifice and show the same courage for the independence and the future of the homeland".
The Turkish President extended his wishes for the national holiday to the Turks living "in Turkey, in 'trnc' and in every corner of the earth".
What did Savvas Agelides ask for
The coordination of the presence of Member States Navy ships in areas of particular interest to the EU was discussed at the Informal Meeting of Defence Ministers in Helsinki, with Savvas Angelides calling for the Eastern Mediterranean to be included, as a result of the discovery and exploitation of energy reserves, but also the illegal Turkish actions.
Angelides participated in the proceedings of the informal meeting organized by the Finnish Presidency of the EU Council on 28 and 29 August, on EU Common Security and Security Policy issues.
As Angelides told the CNA, the debate on co-ordinating EU Navy is at a preliminary stage and aims to promote the security and stability of specific areas of the Union. Work on the matter has already begun at Council Commissaries level, he said. During his speech at the Informal Summit, Angelides called for specific criteria to be set for areas that could be described as "areas of interest" and which would justify the presence of the EU Navy.
In this context, he said that he argued for the inclusion of the Eastern Mediterranean region, referring to the exclusive economic zone of the Republic of Cyprus and the development of natural gas deposits.
He explained that the aim of developing these deposits is to create an alternative source for Europe. Therefore, he added, the Union is directly affected and the area can be described as a 'zone of interest'.
The Minister also raised the dimension of Turkish actions in the EEZ of the Republic of Cyprus, while informing his counterparts of Ankara's illegal actions./ibna