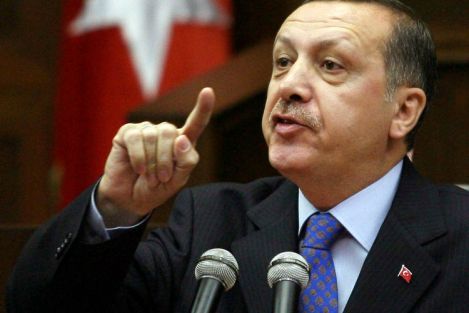 Ankara, January 25, 2015/ Independent Balkan News Agency
By Manolis Kostidis
Recep Tayyip Erdogan sent a strong message to the EU countries on the issue of Turkey's accession course and threatened to leave the country from the accession negotiations!
Turkish President during his visit to Djibouti held a press conference and where he stressed: "Will Europe be able to integrate Turkey, which has a Muslim population. If you are against Islamophobia you are obligated to integrate Turkey into the EU. Turkey is a member of many organizations, why not make it a member of the EU? If you see Turkey as a country that will beg, be assured that Turkey is not a country that would beg to join".
Erdogan argued that his country is essentially "checking the EU" and said that if Turkey's request is accepted, it will join the EU", otherwise Turkey will carve its own course".
Turkish president traveled to Djibouti and Somalia, two countries, which when were announced in the official program of the  president, caused quite an impression.
However, information from Ankara say that the main aim of the Turkish president is lobbying the leaders of these countries to close dozens of schools of the Islamic movement of Imam Fethullah Gülen, located on the African continent. Erdogan and the Turkish Government argued that Gülen and his movement in 2013 tried to overthrow the Turkish government with revelations, using illegal wiretapping, of the corruption of members of the Erdogan government.
Before the arrival of Erdogan to Somalia, a car bomb, which was driven by a suicide bomber, exploded at the entrance of a hotel in Mogadishu. In the hotel SYL, near the presidential palace, have resided the members of the Turkish delegation.
None of the members of the Turkish delegation was injured, but three Somali policemen were killed.
Islamic fundamentalists El Shabab claimed responsibility for the attack.