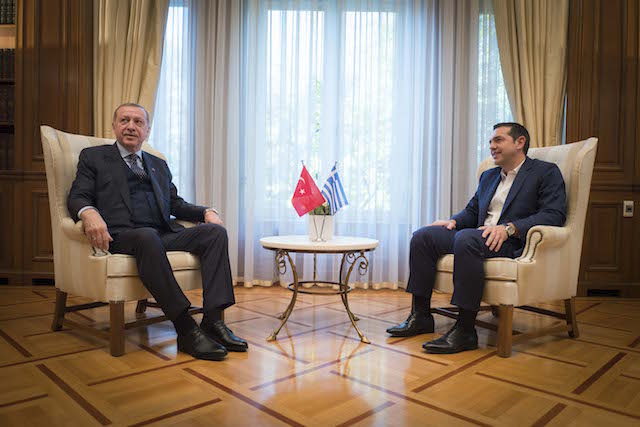 The historic visit of Turkish President Recep Tayyip Erdogan to Athens on Thursday sparked a political disagreement between ruling party SYRIZA and main opposition New Democracy.
In the first visit by a Turkish president in 65 years, Erdogan appeared to raise a series of controversial issues from the very beginning of his official visit. Specifically, he spoke of the need to revise the 1923 Treaty of Lausanne, which defines the borders between Greece and Turkey, and referred many times to the rights of a "Turkish minority" in Thrace which Greece recognizes to be a "Muslim minority" of Greek citizens.
Erdogan openly disagreed with both the President of the Hellenic Republic, Prokopis Pavlopoulos, and Prime Minister Alexis Tsipras on a series of thorny, long-standing issues. However, the premier – who met with Erdogan after Pavlopoulos – managed to defuse the initial tension and appeared to handle the situation with calm diplomacy.
"Let us open a new chapter together that is not based on mutual suspicion but on an effort to build bridges on firm foundations", Alexis Tsipras urged Erdogan during a joint press conference.
Main opposition New Democracy party was quick to criticize the government over the handling of Erdogan's visit.
New Democracy leader Kyriakos Mitsotakis met with Turkish President Recep Tayyip Erdogan on Thursday afternoon. In a statement issued afterwards, he called on the Turkish leader not to undermine good neighborly relations and question international treaties.
Before the conservative party leaders' comments, his party had slammed the government for being "unprepared" for the official visit of the Turkish President. It is suggested that ND will pounce on the issue once Erdogan has completed his two-day visit on Friday, when he is scheduled to tour Thrace.
The Greek government issued a "non-paper" rejecting any notion of a revision of the Treaty of Lausanne. Government sources also rejected the opposition party's criticism, arguing that sensitive issues such as Greek-Turkish relations are not suitable for "political games"./IBNA