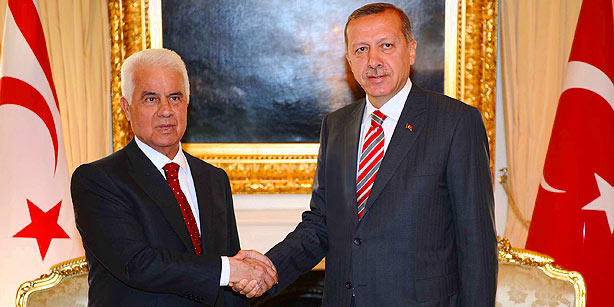 By Manolis Kostidis – Ankara
The turkish-occupied part of Cyprus chose as his first  visit abroad, the new president of Turkey Recep Tayyip Erdogan, a few days after taking office. A visit to the pseudo-state by a Turkish political leader at the start of his term is considered tradition of the turkish status quo.
Erdogan, who arrives today in occupied Nicosia, will visit the graves of Fazıl Küçük (First Vice President of the Republic of Cyprus) and Rauf Denktaş.
Later, he will have a meeting with Turkish Cypriot leader Dervis Eroglu, and a few hours before his departure, he will meet with the leaders of political parties. The Turkish President chose not to spend the night on the island as he will depart for his next destination, his visit to Azerbaijan.
Visit to Azerbaijan
Erdogan will arrive in Baku at the invitation of the President of Azerbaijan, Ilham Aliyev, and the two leaders are expected to discuss matter of energy policy and bilateral relations.
Festivities for the victory against the Greeks in Asia Minor
Last Saturday Erdogan attended the military parade of the national celebration of Turkey, which is the anniversary of the victory of the turkish army against the greek forces in 1922. In his message for this national celebration, the Turkish president said that "the Turks live in a country, in which they have no anxiety about tomorrow, and that with the great military victory we managed to save ourselves from the occupying forces (greek military forces)" and promised that "the new Turkey will be financially stronger and more democratic".
The leader of the Republican People's Party Kemal Kilicdaroglu participated in the festivities of the national celebration, but refrained from doing a handshake with Erdogan. Already, many members of the CHP have boycotted Erdogan's inauguration as President in Parliament, as they feel that he is not worthy of the position and accuse him of violating the Constitution by not delivered his Prime Ministerial duties on time.
The new Prime Minister of Turkey, Ahmet Davutoglu, however, met with the Head of the Turkish secret services, Hakan Fidan, who Erdogan considers his most trusted partner. The Fidan-Davutoglu meeting lasted 1.5 hours and its contents were not made public. The selection of the person for the first meeting of the Prime Minister drew the attention of the turkish media.