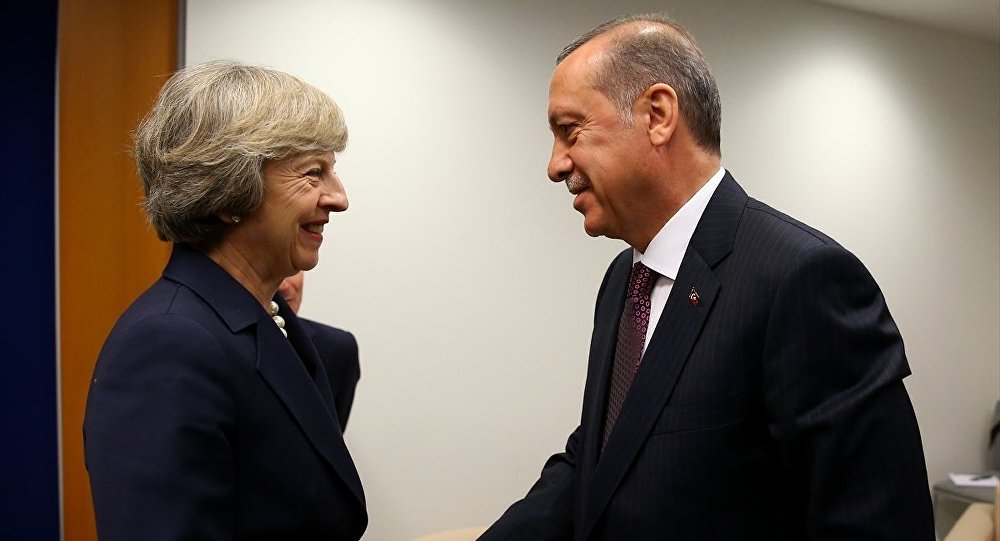 President Erdogan's visit to the UK may have caused controversy with protesters condemning his regime's record on human rights and even unprecedented clashes right on the doorstep of Downing Street between his supporters and Kurdish demonstrators, but in the end it has gone down as yet another moment of cementing a stronger bilateral bond ahead of Brexit.
Theresa May was brave enough to heed calls for her to remind her guest of his obligation to uphold European values and principles of democracy. Her relevant comment during the joint press conference, however, was overshadowed by references to the re-inflamed tension between Israelis and Palestinians, the strengthened cooperation in intelligence sharing and the shared wish to increase trade volumes between Turkey and the UK.
The Turkish President seemed unmoved by his hostess's plea anyway, poignantly dismissing a British journalist's question about imprisoned colleagues in Turkey as a baseless statement. "We should not call these people journalists because they are holding a pen. They were caught red-handed holding guns, so they are terrorists," retorted Mr Erdogan.
The situation in Gaza was bound to monopolise interest in the talks between the two leaders on international issues, but the apparent absence of discussion of the Cyprus issue, despite a statement of intention by President Erdogan before his departure for Europe, caused consternation to both Cypriot and British observers.
Theresa May was happy to talk up the increasingly strong economic relations with Ankara. A little discussed comment of hers during the press conference summarised her government's view of Turkey, as a huge market for British firms and a country that could be crucial in making a success out of Brexit.
Mrs May referred to the more than £100 million agreement that was signed during her trip to Ankara in January 2017 for the UK firm BAE Systems to become the major international partner in building the new fifth-generation TF-X Turkish fighter jets.
According to the her statement at the press conference, the next phase of the project and particularly Rolls Royce's bid to co-design the engine for the jets was discussed.
Calls in the UK will continue for the government to be more critical of Erdogan's heavy handed "defence of democracy" in his country; but what was made clear during his visit, even more so with him having been granted the honour of an audience with the Queen, is that the UK values its hailed "strategic partnership" with Turkey and business opportunities like the TF-X project as an integral part of the "bright future" post-Brexit…. / ΙΒΝΑ