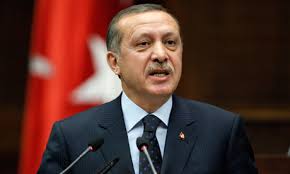 By Manolis Kostidis – Istanbul
Recep Tayyip Erdogan likened events in Taksim Square and allover Turkey to those before the coups of 1960 and 1980, essentially arguing that there is an ongoing attempt to overthrow the Turkish government.
The Turkish premier stated: "What has happened now is like the provocations before the military coup of May 27 1960 and the unrest before the 1980 coup. However, those who planned similar actions now found before them the wall of the people".
"The people haven't forgotten 1960 and Menderes, they haven't forgotten Turgut Ozal and they haven't forgotten the 28th of February and Necbetin Erbakan", Erdogan stressed.
"My people will hold accountable the provocateurs in 7 months, in the elections", the Turkish Prime Minister mentioned.
In a speech to his party's Parliamentary Group members, Erdogan argued that protestors had also targeted the economy. "There was a plan to intimidate investors. Everything was done with support from abroad as well as inside Turkey. The international press was misinformed. There was a systematic attack on Turkey. This wasn't a democratic struggle," Erdogan said.