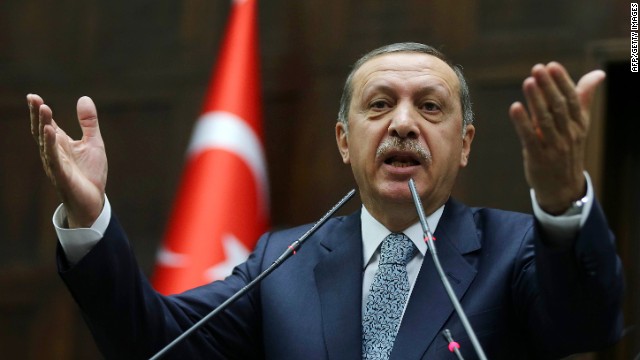 Ankara, August 17, 2015/ Independent Balkan News Agency
The Turkish president speaks of a Presidential system that is already a reality
Opposition: "We do not need domestic Hitler and Stalin"
By Manolis Kostidis
Serious concerns have caused in Turkey the new statements of the President Recep Tayip Erdogan, who spoke of "a regime change in the country". The opposition speaks of a "coup".
Erdogan in his statements regarding the accusations against him for his involvement in the internal political manifestations of the country, but also for the presidential system he envisions, he said that "You can either accept it or not, but the way the country is governed has changed. Now is the time for this actual situation to be legalised and be defined in a new Constitution. To prevent this from happening now and to complain that the president is involved in everything is like walking under the rain and complain for getting wet"!
Immediate reaction from the opposition parties
"If the country's governance has fallen into the hands of one man then woe to us! They must all know that we will show no tolerance domestically produced Hitler, Stalin, Kaddafi. Turkey is greater than the will of one man. Turkey is in a higher position than the palaces", said the president of the Nationalist Action Party Devlet Bahçeli.
"These statements come to show that the biggest problem of Turkey is the president who says he does not recognize the Constitution. What does it mean a real situation has been created. As long as there is a Constitution, it alone defines the powers of the president. By the same logic, tomorrow head of the armed forces and come out and say, I do not recognize these laws. How can we ever accept such a thing", said the vice president of MHP Atilla Kaya.
The vice president of the Republican People's Party (CHP), Sezgin Tanrıkulu, made a more harsh statement, saying that "basically what Erdogan is saying is that he does not recognise the Constitution and calls for the Constitution of the country to adapt to his demands! With these statements, Erdogan has announced that he has performed a coup and does not recognise the will of the people… now he tells us that he will establish his dictatorship".
The representative of the pro-Kurdish People's Republic party, Sabahat Tuncel, claimed that "Erdogan might have seen a dream and speaks of changing the way of governance and the regime? When did that change and we do not know about?"