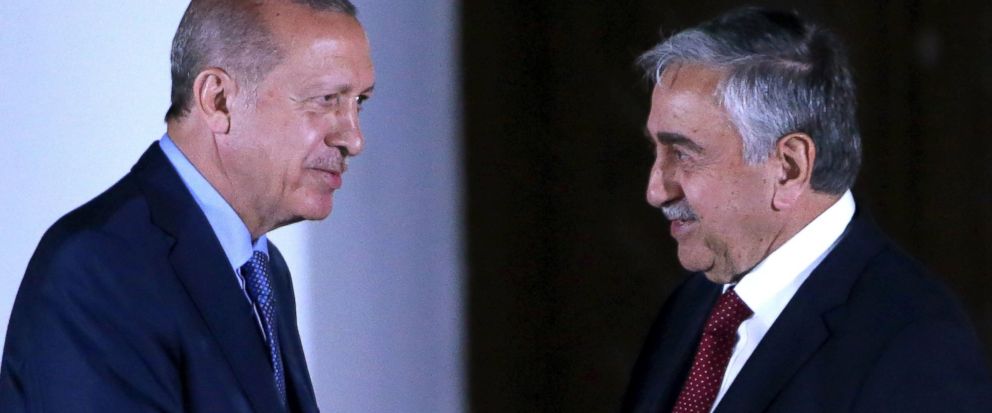 Before getting to Brussels to attend the NATO summit, the Turkish president Recep Tayyip Erdogan visited Azerbaijan and the northern part of Cyprus. While in Nikosia, he met with the  Turkish Cypriot leader Mustafa Akinci and accused the Greek Cypriots of not resolving the Cyprus problem.
"Turkey will not allow the Turkish Cypriots to become the victims of the failure to resolve the Cyprus problem. It will never allow Turkish Cypriots to become the minority of a Greek Cypriot state", Erdogan said.
On his trip to Brussels he spoke with reporters accompanying him on the plane, referring to the meetings he would have at the NATO summit.
"At the NATO Summit we will have many meetings. The U.S.A., Italy, France, England have requested meetings with us. There are also countries that we have asked to meet with them. Our main goal is to show a positive attitude and to continue our NATO meetings", Erdogan told the press.
On Wednesday evening the Turkish leader met with Angela Merkel.  
In Turkey, there was satisfaction about the draft conclusions of the NATO summit, which stated that the alliance would take action on the threats Turkey faces from its southern borders.
However, the statement by Turkish Foreign Minister Mevlut Cavusoglu who said that the first S-400 batches will get to Turkey at the end of next year and that this issue should no longer be questioned by anyone, had a certain impact.
Cavusoglu said Turkey is not moving away from NATO, but since the Alliance did not giving us the weapons we wanted although we asked them first, we headed for other solutions so to meet our immediate needs, he noted.  
Donald Trump's meeting with Recep Tayyip Erdogan may shed light upon future developments regarding the S-400…. / IBNA