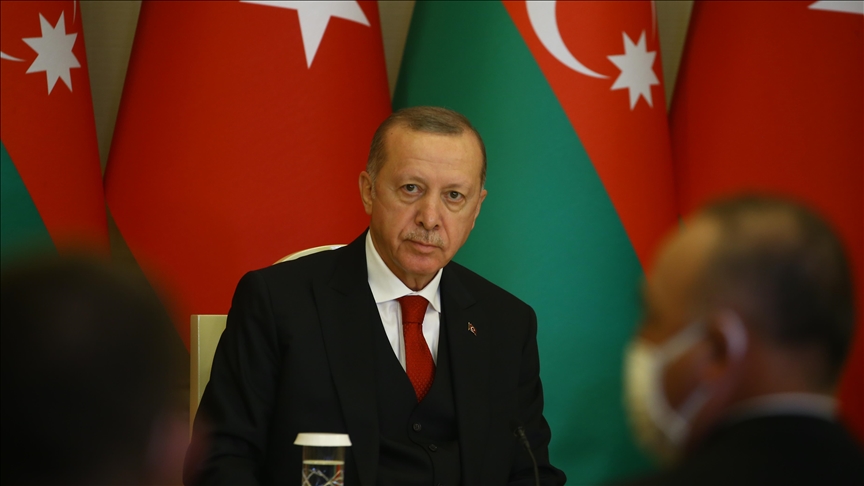 Turkish President Recep Tayyip Erdogan said on Thursday that his country could open its borders to Armenia if Yerevan takes steps for regional peace.
Speaking at a joint news conference with his Azerbaijani counterpart Ilham Aliyev in Baku, Erdogan said they had no problems with the Armenian people.
"We have no hatred against the people of Armenia. The problem lies with the Armenian government. More than 100,000 Armenians live in my country", he said.
Erdogan criticized the OSCE Minsk Group for failing to resolve the issue in the face of almost 30 years of Armenian occupation of Azerbaijani territories.
At the same time, he praised Russia's role in ending the years-long border conflict between Azerbaijan and Armenia earlier this year.
Commenting on the French National Assembly resolution recognizing Nagorno-Karabakh as a separate democracy, he noted that "even [Armenian Prime Minister Nikol] Pashinyan does not accept it", adding that French President Emmanuel Macron "has not yet learned politics".
He added that France had repeatedly tried to contact Aliyev during the conflict, as well as Turkey, but that Ankara had not returned the phone calls.
Erdogan went on to say that the Azerbaijani government would complete a period of progress in Karabakh within three to five years.
He also stressed that the idea of ​​establishing a six-nation regional bloc was in Russia's favor.
"Russia, Turkey, Azerbaijan, Iran, Georgia". "Armenia could also be included in this platform", he added.
For his part, Aliyev thanked Turkey for its support during the conflicts with Armenia, adding that the two countries enjoy such close and friendly relations.
"President Erdogan's Turkey is an example of courage, independence and development for the world", Aliyev said.
He said Turkey's Bayraktar drone played a "crucial role" in Azerbaijan's victory in Karabakh.
Offering an olive branch to Armenia, he said they are ready to start a new partnership with Yerevan for the sake of lasting peace in the region.
"If the Armenian government draws the right conclusions from the war and looks to the future, renouncing its baseless allegations, then they can have a place in this bloc", Aliyev said, referring to the regional bloc in the field.
Turkey and Azerbaijan have signed a number of agreements in the fields of transport, communications and visa waiver.
Turkey can open its borders to Armenia, if positive measures are taken by Armenia in the region./ibna