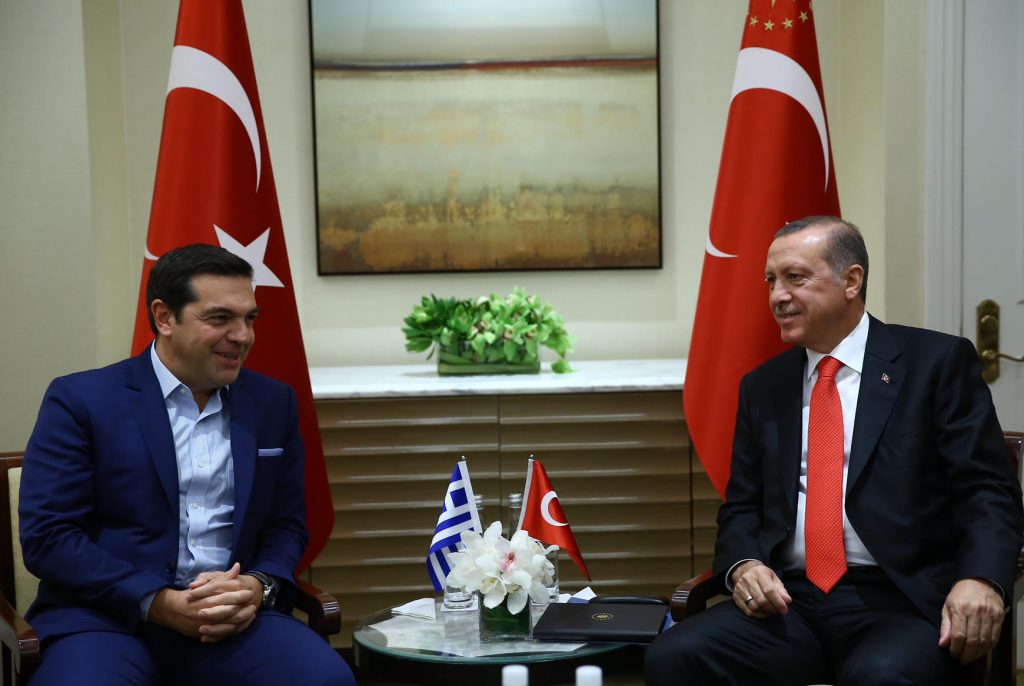 New York, September 22, 2016/Independent Balkan News Agency
By Spiros Sideris
In very warm atmosphere and with unusual duration took place the meeting of the Turkish President Recep Tayyip Erdogan and the Greek Prime Minister Alexis Tsipras, on the 3rd floor of Peninsula New York Hotel on Wednesday, September 21.
With few minutes delay arrived just after 4:30 in the afternoon the Prime Minister at the hotel that resides the Turkish mission at the 5th Avenue and 55 Street. The arrival of Alexis Tsipras arrival was preceded by the arrival of the Greek Foreign Minister Nikos Kotzias. The Greek minister was received by his Turkish counterpart Mevlut Cavusoglu with a very hearty embrace and thanked him for his hospitality in Crete.
During the meeting of the two leaders, which was held in very warm atmosphere, there were jokes and light talk, creating the right atmosphere for a substantive discussion.
Three were the main points of discussion between the two delegations. The refugee problem, the case of the eight Turkish soldiers who took part in the failed coup and asked for political asylum in Greece and the Cyprus issue.
The discussion began with an update by the Turkish President on the failed coup attempt, on which Alexis Tsipras noted that Greece was among the first countries that took a firm stand against any attempt against the freedom of the Turkish people and their constitutionally elected Turkish government.
Given the opportunity, Recep Tayyip Erdogan raised the issue of the eight Turkish soldiers who have requested political asylum. Alexis Tsipras reiterated the firm position of the Greek side that the case is dealt with on the basis of international law and that the process continues always in the framework of legality.
In the refugee issue it was confirmed the need to support the deal and to support efforts for the refugee crisis. As noted "the agreement depends on both sides". The two leaders agreed on the effective implementation of the EU-Turkey Agreement for the refugee issue, with the full assistance of Turkey, but in order to be effective, this effort should be continued by all sides. Alexis Tsipras, reaffirmed the support of Greece for the Turkish request for the exemption of visa for Turkish citizens, provided the criteria that have been set are fulfilled. Respectively, it was reconfirmed in the discussion the support of Greece in the accession process of Turkey. Finally, there was also discussion on the speeding up of the funds for refugees.
There was also reference to decisions made on wider cooperation that were taken in March in Izmir, concentrating on the Istanbul – Thessaloniki rail link and the Izmir – Thessaloniki ferry connection.
Finally, the two sides discussed the Cyprus issue, with the dominant theme of safety for all involved sides. The Greek Prime Minister made reference to the issue of the occupation forces and the immediate withdrawal of the Turkish forces from the island.