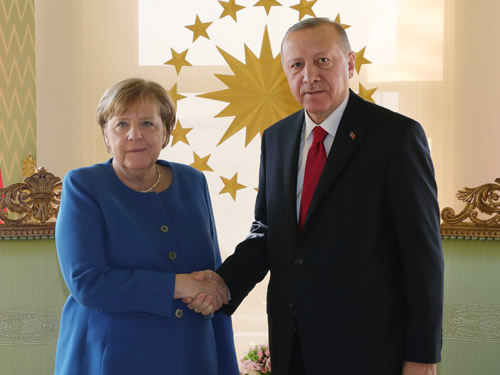 Turkish President Recep Tayyip Erdogan voiced hope on Friday that the Turkish-German University of Istanbul would be regarded as a symbol of friendship between the two countries.
"We will continue to provide all kinds of support to the Turkish-German University", Erdogan stressed at the official opening ceremony of the new University campus in Istanbul in the presence of German Chancellor Angela Merkel.
Underlining that Turkey has become a center for foreign students, Erdogan underlined that the number of foreign students had surged to 172,000.
He also noted that he expected the country to also become a center of attraction for foreign academics.
Erdogan added that efforts were under way to establish a Turkish-Japanese university of science and technology, as well as a Turkish-Italian university.
Noting that humanity faced many problems such as terrorism, Islamophobia, cultural racism and xenophobia, he stressed that one should not turn a blind eye on them, especially at a time when communication and transportation have become universal.
During the inauguration ceremony and before bilateral talks commenced between the two leaders, Erdogan said that with the German Chancellor they would be discussing regional dynamics and regional issues, especially the Libyan crisis, as well as bilateral relations.
"It is not just countries like us who have been at the center of these conflicts in Syria for the last nine years that have been affected – Europe has also felt the heat", he said.
The Turkish President said the recent 55-point peace plan constituted an important step towards restoring political stability in Libya, adding that the success of the plan depended on its implementation in practice.
"It is important to put pressure on the coup instigator Haftar and his supporters, especially in this regard. The increase in attacks on residential areas in Tripoli since yesterday as well as the targeting of the Mitiga Airport prove who has been striving for peace and who has been after bloodshed and tears", he argued.
He added that the chaos in Libya would be affecting the entire Mediterranean region if peace was not secured as soon as possible.
For her part, Angela Merkel also praised the efforts for the Turkish-German university.
"The Turkish-German University is a great example of cooperation, a symbol of partnership between the two countries", Merkel said.
A total of 5,000 students are expected to receive training from the Turkish-German university by the opening of the new campus, she added.
Ankara and Berlin signed an agreement in 2008 to inaugurate the University. She also stressed that science and education have played an important role in promoting people's creativity and freedom. Finally, she highlighted the importance of civil society dialogue on politics and relations between governments, saying that Turkey and Germany shared deep-rooted relationships which could be traced way back in history. /ibna