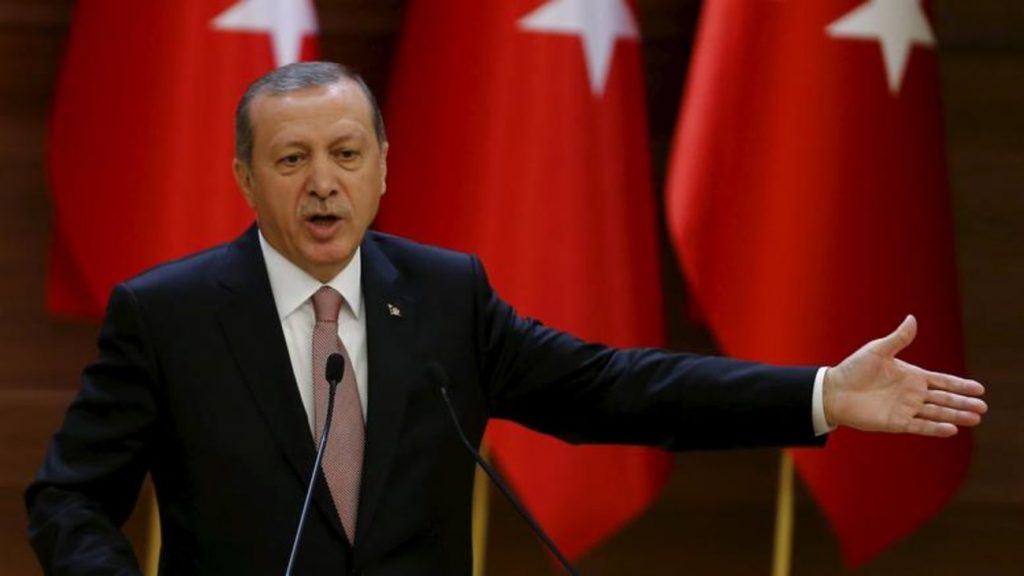 "By 2023 we will become one of the ten biggest countries in the world"
Once again the President of Turkey Recep Tayyip Erdogan made a reference to the Lausanne Treaty and expressed "complaint" about the results. The Turkish President in his speech at the Council on "Turkey's new security doctrine", stressed that the goal of Turkey is to become a greater power by 2023. The speech was made to the police in the conference center of the presidential palace in Ankara.
"The aim is the National Oath. We are estimating the benefits from Lausanne. But this does not mean we will not discuss the objectives we came close to achieving with the Liberation War and included areas that were within the National Oath, but which we gave away with the Lausanne treaty. I say that Lausanne is not a text that cannot be discussed, it is not a sacred text. And we will discuss and work to get something better", he said.
Erdogan spoke of "the entrapment" of Turkey by the Treaty of Lausanne and made it clear that he will continue to raise this issue.
"They still want to cage us in Lausanne. Let them not misunderstand us. We have give our word to the people. We will stretch all boundaries to reach the objectives we have set for 2023. That is, to become one of the largest states in the world", he said
Turkish President in his speech pointed out that Turkey is heir to the Ottoman Empire.
"We are inheritors of a state which territory had reached 22 million sq km. Just a few years before the establishment of the Turkish Republic our lands was at 3 million. Unfortunately later we fell to 780,000. When I spoke of Lausanne some were annoyed. But in Lausanne we went down from 3 million to 780,000 square kilometers. They took from us places that were in front of our noses and some speak with pride about this fact".
With the successive speeches one can surmise that Erdogan is trying to re-establish and change the structure of the Turkish Republic, in which from 1923 until recently its leaders avoided talking about the Ottoman Empire. The memory before 1923 was almost annihilated and in the textbooks this Empire was mentioned as something evil and its leaders as corrupt, crazy, etc. Mainly the ones of the 19th and 20th century. Erdogan is trying to change this view, at the same time bringing back to the fore the borders of Turkey, established with the Treaty of Lausanne./IBNA