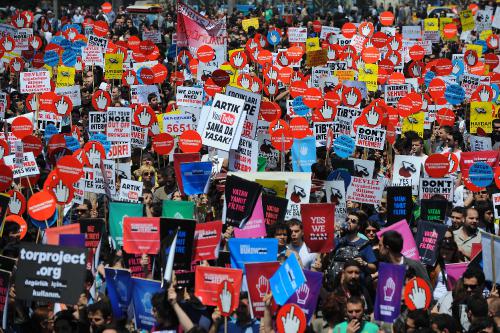 By Manolis Kostidis – Ankara
Recep Tayyip Erdogan is trying to justify the restrictions imposed by the government on the internet.
The Turkish Prime Minister in his speech to his party's parliamentary group claimed that his aim is to combat the parastate, which he claims exists in Turkey and which aims to overthrow the government. "The changes we are implicating on the internet's function aim in combating the parallel state (parastate). Why does the opposition not support us? With the new internet law we eliminate an immoral threat. We place barriers to the tappings and cassettes that often preceded the politics".
"With this regulation we protect the personal data and rights. Up to today, 5 days were needed to ban the posting of an illegal tapping. No one's personal information will be recorded, no internet information will be stored. We are not against the internet", he stated.
The new law legitimizes the authorities to immediately block web pages without the need for a judiciary approval. At the same time, the same law, forces the telecommunication companies to keep a record of the internet visitation of all users for two years. These data, the internet providers will be obligated to deliver them to the state authorities when they ask for them. A serious issue here is that the users will not be informed that their personal data were given to the authorities.