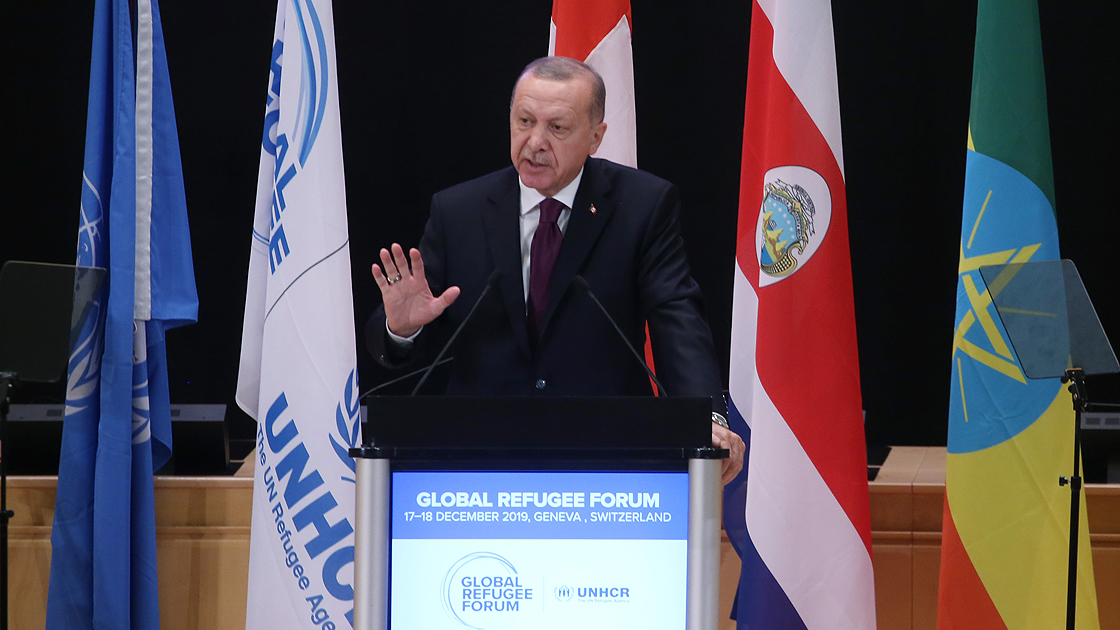 Speaking at the World Refugee Forum, Recep Tayyip Erdogan launched an attack against the EU claiming that their proposal was for boats to sink in order for the refugee flows to come to an end.
"Europeans mistakenly thought that Europe could protect itself from refugees with a barbed wire. In fact, we came across suggestions like for the inflatables filled with refugees in the Mediterranean to be sunken. They even punched holes in the boats and let the refugees drown in the Mediterranean waters", the Turkish president argued in his speech from Geneva.
"There is more. For example, refugees from Afghanistan are currently traveling to Iran to reach Europe via Greece. And what can we do? We have to send them back to Afghanistan", Erdogan said.
The fact that the Turkish President was proposing a co-exploitation of Syrian oil for the benefit of the refugees raised eyebrows. "We created in our border with Syria a 120 km-long and 30 km-deep safe zone, and this way we cleared a 8200-square-foot area from terrorist organizations. I too make a call. Come and co-exploit the oil that is found in those wells", Erdogan stressed in his speech from Geneva.
Putin-Erdogan phone conversation on Libya
The Turkish Parliament's Foreign Policy Committee has approved the Turkey-Libya Defense Cooperation Agreement, making Ankara's preparation for a deployment in Tripoli to support the Al-Sarraj regime almost certain.
Before any such move went forward, however, Erdogan chose to speak on the phone with Vladimir Putin, who has so far supported General Haftar who has been fighting Sarraj. According to the official statement, the two leaders discussed mainly the Libyan and Syrian issue, but also other regional matters. Yet analysts believe that the talks between the Russian and the Turkish President begun so an "auction" could kick off in Libya. Besides, this is the way they have always stayed in touch and continue to do so regarding the Syrian issue, as a balance has been found that satisfies all sides.
Kremlin announced that the Russian President would discuss next month with Erdogan Turkey's plan to provide military support to the internationally recognized Libyan government. "Russia … supports any efforts and individual countries to find solutions to the (Libyan) crisis", Kremlin spokesman Dmitri Peskov stated.
The Kremlin spokesman added that Putin would visit Turkey next January, as the Turkish presidency spokesman had already announced.
If the two leaders' program remains unchanged, Putin will be the first foreign leader to meet Erdogan in 2020. Putin also holds the record for the most phone calls and meetings or the Turkish President with foreign leaders.
Information on Egypt's objections to the Libya Turkey Agreement
In a letter to the UN Secretary-General and the President of the Security Council, Egypt declares the two memoranda signed between the government of Tripoli and Turkey void and non-existent, requesting that they not be registered, according to comments from diplomatic sources to the Athens News Agency
However, analysts argue that the United Nations is not competent to reject an agreement between the two states; they recognize the Sarraj Government as the official one, and usually they might simply postpone the procedure of providing a protocol number for a couple of weeks; however, this could not affect the agreement between Turkey and Libya. /ibna