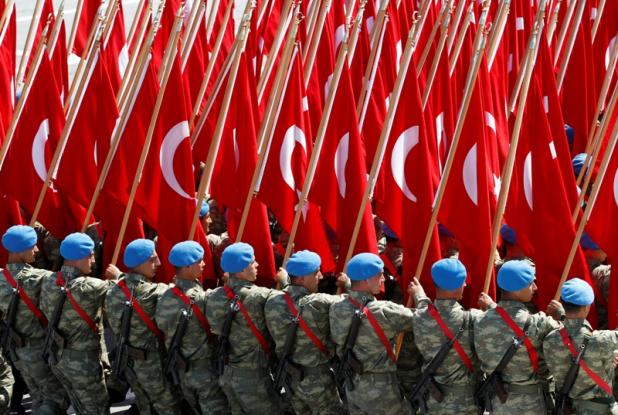 Ankara, July 28, 2016/Independent Balkan News Agency
By Manolis Kostidis
The attempted coup by part of the staff of the Turkish Armed Forces gave reason to Recep Tayyip Erdogan to make radical changes to the whole pyramid of the Armed Forces, proceeding with the dismissal of all those suspected of being associated with Fethullah Gulen, who is believed to be behind the coup of July 15.
The Turkish General Staff of the Armed Forces deleted from the troops 149 generals and admirals. The same fate share 1099 officers. The deletions were announced a few hours before the sitting of the Supreme Military Council, which will convene today under the chairmanship of Erdogan to determine the new names of the leadership of the Armed Forces.
However, earlier the General Staff of the Armed Forces announced that 8561 officers and soldiers were involved in the attempted coup of July 15.
According to the Turkish army, that night were used 35 aircraft of which 24 fighter jets, 37 helicopters of which 8 attack helicopter, 74 tanks, 246 armored vehicles and three ships of the Turkish Navy.
Other than the cleansing in the Armed Forces, the Turkish government is taking further steps in the war against Gulen and late Wednesday night announced that it decided to shut down 13 television stations, 45 newspapers, 24 radios, three news agencies, 29 publishing houses and 15 magazines. All are associated with the Islamic order Hizmet of Gulen and to some of them there had already been appointed state commissioners. Among the television networks that close down is Yumurcak TV, which is a program aimed at young children and broadcast animation!
Shocking and the numbers of arrests and imprisonments in Turkey. Interior Minister of the country, Efkan Ala, announced that from July 15 until yesterday were detained and questioned 15,846 people, of whom 8,133 were led in prison.