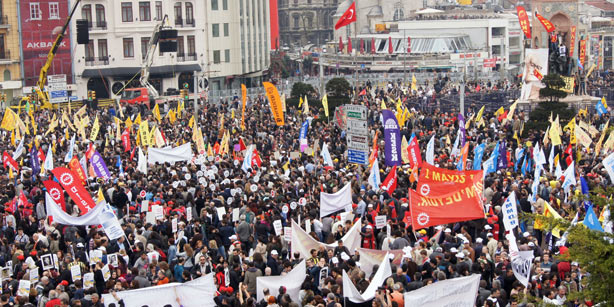 19,000 police officers will guard the Square!
By Manolis Kostidis – Ankara
To absurd levels have reaches the insistence of the turkish government and Prime Minister Recep Tayyip Erdogan, regarding the banning of the celebration of Labour Day in Taksim Square in Istanbul.
According to the newspaper Vatan, in order for no demonstration to take place to the most central square of the city 39,000 police officers will be mobilized across the city, 19,000 of who will safeguard the Square and the surrounding streets. In this particular Square there will be transferred 50 armored police vehicles as well as many other vehicles to deal with any event. They have canceled the vacations of all police oficers and have already begun operational exercises on how to deal with protests!
The unions and opposition parties have announced that they will march to this specific square "symbol" because on May 1, 1977, 36 people were killed by bullets fired strangers, who were probably members of a paramilitary organization. Up to 2009, the demonstrations and any mass gathering in this square were prohibited.
The Erdogan government was the one that allowed the demonstration on May 1, 2009 and the years that followed.
Last year the first ban was imposed due to the works that were being done in the Square. After the events in Gezi park, Erdogan forbade any mass gatherings on any day of the year.
The Turkish prime minister has said "the unions should forget about Taksim Square" stating that they can organize gatherings and events in Yenikapi area, 10 kilometers from Istanbul, where a special area for events and demonstrations has been created!
The main reason Erdogan does not want any demonstration in Taksim Square lies in the fact that this particular area is "the heart " of the city. The episodes in Taksim Square and the adjacent Gezi Park on June 2013 had shocked the international public opinion. The turkish government fears a repetition of a similar phenomenon, with antigovernment demonstrations to becoming an everyday occurrence. Basically, he wants to avoid the creation of a situation similar to that of the events in Tahrir Square in Egypt, or Maydan Square in Kiev. So he sends the protesters to a vacant area outside the city center and takes disproportionate security measures.
The paradox in the whole matter is that Erdogan himself boasted in 2009 that he opened  Taksim Square to protesters and he considered that as a sign of democratization, while now he closes the same Square taking measures similar to those taken by the military junta of Kenan Evren in 1980.