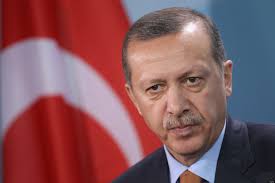 By Manolis Kostidis – Ankara
An Erdogan statement went "one step too far" in the already strained relations between Ankara and Cairo which resulted in the expulsion of the Turkish Ambassador from Egypt.
"I respect President Morsi and I don't respect those who are judging him" Erdogan said last Friday evening in a press conference during his visit to Russia.
The following day the Egyptian government declared the Turkish Ambassador to Cairo "persona non grata" and asked for his deportation. The Turkish Foreign Ministry followed the instructions and ruled out the restoration of the Egyptian Ambassador in Ankara who had been withdrawn to Cairo for consultations since August.
The Egyptian Foreign Ministry announced bilateral relations deteriorated to the level of follower. The Sisi regime believes the Erdogan administration is meddling in the internal affairs of Egypt.
"This statement is against the sovereignty of the people of Egypt.  This stance degrades the choices of the Egyptian people and is an unacceptable interference in the internal affairs of Egypt which is persistently continued by Turkey" says the Egyptian Foreign Ministry announcement.
Erdogan continues to provoke
Following this diplomatic crisis, Erdogan continued the "hostile" comments, maintaining that "the Turkish government will never respect those that came to power by a coup. We never respect those that don't respect the sovereign rights of peoples".
Ahmet Davutoglu stressed the Turkish government had reacted to the military coup because it respects the sovereignty of the people of Egypt and added: "When a government comes to power that respects the rights of the people, the relations of Turkey and Egypt which are long will be restored".
Last July Turkey had reacted strongly to the overthrow of Egyptian President Muhammad Morsi by the military regime. Erdogan's Justice & Development Party has close ties to the "Muslim Brotherhood" that was toppled by the Sisi regime.
The surprising issue is that last month Ankara had refrained from strong statements against the military regime in Egypt. Sources said the recent meeting between Ahmet Davutoglu and John Kerry, the latter had asked for the reduction of tension between Ankara and Cairo, something the Turkish minister confirmed.
Two days after the Kerry-Davutoglu meeting, the Erdogan statements changed everything. There are rumors in Ankara that Ahmet Davutoglu did not anticipate the statements and that he was dissatisfied with the sudden worsening of relations. It is still possible however that this is just a diplomatic leak as everyone knows that the two men have daily contact and together determine the foreign policy of Ankara.
"When we blame those who carried out the coup in Egypt, the US Foreign Minister says the Egyptian army is restoring democracy in the country… After Syria, we have one more country in the area we have a vendetta with" writes political analyst Gungor Mengi in Vatan newspaper.