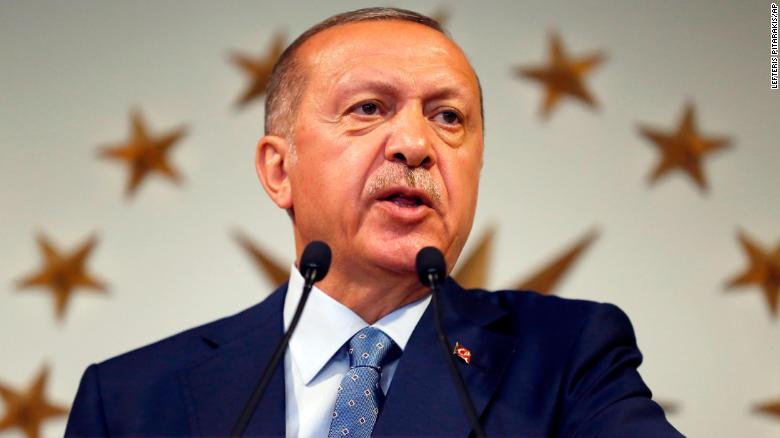 He fired shots against Greece, Egypt and Israel
Speaking at a ceremony for the construction of the first new-type Piri Reis submarine at the Golcuk shipyards, Recep Tayyip Erdogan questioned the sovereignty of the Greek islands in the Aegean in the most formal way.
"Those who have targeted Turkey's rights with a plan that includes big and small islands and islets in the Aegean not under their sovereignty, they should know that the field will not be left open".
Erdogan stressed that "the agreements our country has signed with Libya and the Turkish Republic of Northern Cyprus are in accordance with international law, the UN conventions and with examples from other regions. Of course, we will not accept a regime that provides that Turkey gets only 1% of fishing, despite having the longest coasts in the Mediterranean. No one should expect from Turkey to agree to receive nothing from the hydrocarbon exploration and exploitation".
Meanwhile, he fired shots against Greece stressing that "Greece, alongside some other countries that have supported them for some time now, has been preparing to bring Turkey into a state of not having access to the sea. We know that neighboring Arab countries in the Mediterranean such as Israel do the same. We have no intention of violating anyone's rights or causing any tension. And until the knife reached our throats, we remained silent. But we cannot afford to carry on with this hesitant and silent policy anymore".
Erdogan reiterated that he would abide by the agreement with Libya. "In the event that we drift away from the course we have started with Libya and the 'Turkish Republic of Northern Cyprus', not only will we not record any financial activity, but we will be left with not coasts to swim or beaches to fish. The ones on the other side are not interested in fairness, morality, justice, mercy. They feel such hatred for Turkey and the Turkish people, to the extent that they will try not only to drive us out of Anatolia, but to erase us from this world!". /ibna