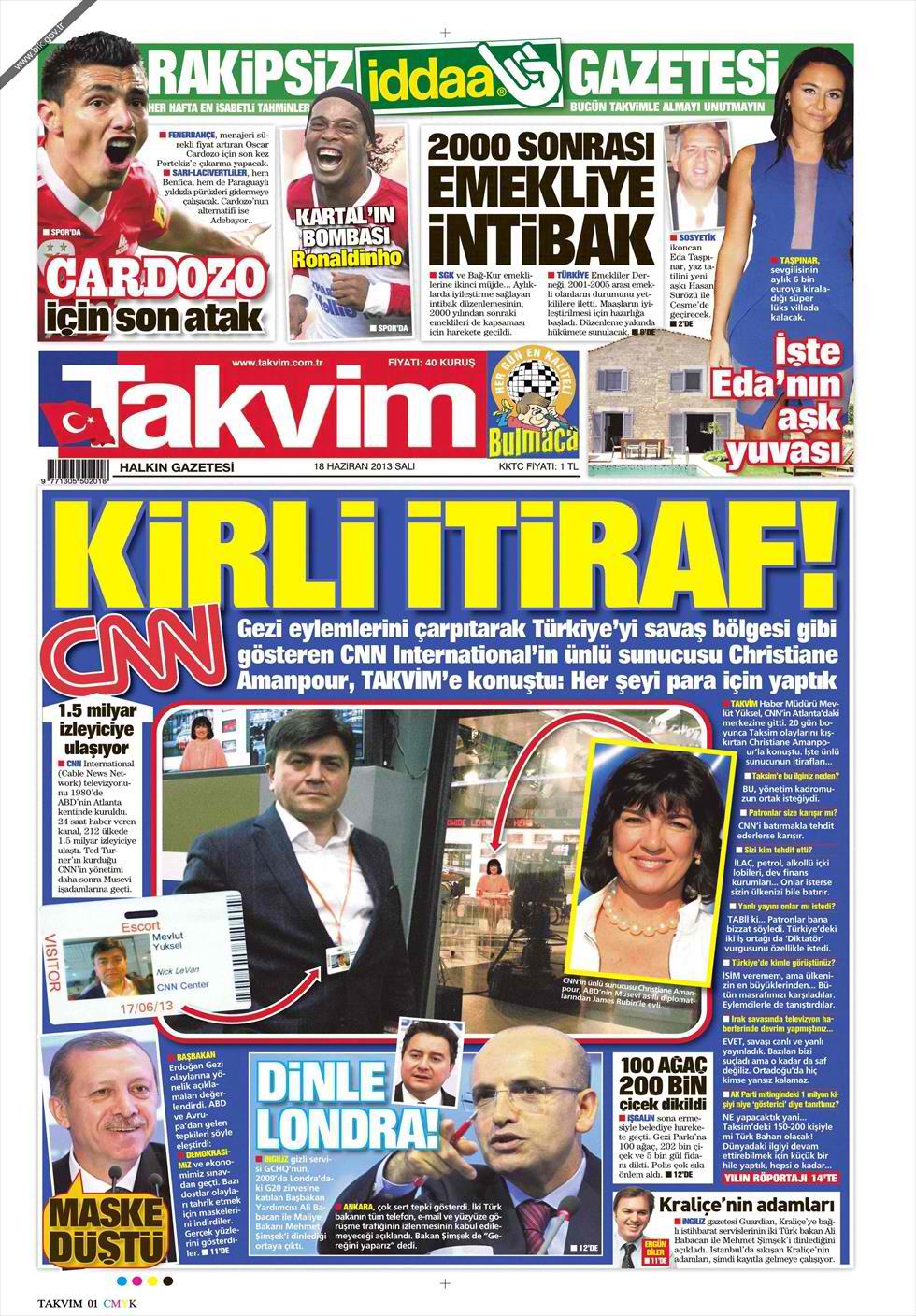 By Manolis Kostidis – Istanbul
Recep Tayyip Erdogan once again claimed his government deterred a conspiracy planned by certain centers against him. The Turkish Prime Minister insisted demonstrations throughout Turkey were the work of a conspiracy against his government. "Everything was organized by some centers. Some media were prepared Social networks were also prepared", he asserted.
Erdogan defended the actions of the Turkish police against demonstrators and stressed "police has the right to use tear gas and can do so whenever needed".
Speaking to his party's parliamentary group members, the Turkish premier hinted at increasing police force and said "we will strengthen the police's responsive force".
"The police passed the democratic test with flying colors" the Turkish PM stated, adding that protestors did not relate to the people of Anatolia, Thrace "but to the BBC and CNN as the media, capitalists and the interest rate lobby are behind protestors. They don't tell the people their problems but speak to them instead in English".
Erdogan claimed there are members of Ergenekon amongst protestors! The Turkish Prime Minister stressed that, according to a poll he holds, 76 pct of Taksim Square protestors are Republican People's Party voters and 16 pct support the Justice & Development Party.
Demonstrators arrested as terror suspects
The Turkish police begun "sweeps" in which 85 arrests were made on charges of involvement in terrorist action during demonstrations in Gezi park, Istanbul and other Turkish cities.
Counter-terrorist forces in Istanbul raided 80 Istanbul homes and 26 more in Ankara.
Turkish interior minister Muammer Guler announced "many of those arrested were monitored by police for a year. In Istanbul 62 arrests were made and 23 in Ankara".
The Turkish press reports those held are responsible for the Gezi park demonstrations as well as those allover Turkey; a theory the Turkish government wants to impose.
During demonstrations in Turkey, 4000 protestor arrests have been made. Most of them were released.
War on twitter and facebook
Turkish daily Aksam says authorities have started an operation against Twitter and Facebook users. According to the newspaper, Facebook Istanbul offices have been providing Turkish authorities with user information. Twitter, on the other hand refuses to do the same and has requested a U.S. court order in order to cooperate with Turkish police.
War-like injury and death toll in demonstrations – 4 dead, 7822 injured
The Turkish Union of Medical Societies announced four people died and 7822 were injured over 20 days of protests that rocked Turkey. According to the Union, 59 people are seriously injured while 6 are in critical condition. 11 protestors were blinded and 100 suffered head injuries.
Gul attempts to defuse tension
In an effort to defuse tensions, Turkish President Abdullah Gul said the name of Pir Sultan Abdal or Yunus Emre (both Alevis) could be given to future big constructions. Gul had himself had announced the third Bosphorus bridge would be named after Yavuz Selim, the Ottoman Sultan that Alevis call their persecutor and destroyer.
Kurdish threats
Pro-Kurdish Peace & Democracy Party President Selahattin Demirtas warned Erdogan that Kurds are concerned about developments. Political analysts in Turkey point out that Kurds did not take to the streets to protest because of the ongoing effort to resolve the Kurdish issue.
"After 20 days the Prime Minister has yet to receive the people's message of revolt. Many of our party members are imprisoned. As long as they remain in prison the process of resolving the Kurdish issue will not continue".
Taklvim newspaper provocation
The provocative headline of pro-government newspaper Takvim, read "dirty confession". The newspaper claimed CNN anchor Christiane Amanpour had told one of the paper's reporters that CNN urged Turks to revolt against the government. It quoted Amanpour saying "we did it all for the money." In the paper's inside pages, Takvim revealed the story was false but it was published because "CNN reported false news about Turkey so we did something similar". However, the front – page was totally misleading.
Amanpour saw the report on Twitter and immediately slammed it. "Shame on you @Takvim for publishing FAKE interview with me," her response read. Political analysts believe this story – of a government friendly paper with a circulation of 300.000 – is telling of the way government circles cause polarization through fabrication.
The Turkish Prime Minister had stated last Sunday that while clashes occurred, some protestors had stormed mosques with their shoes on and drank beers. Protestors had entered a mosque but only to carry heavily injured people inside.
According to newspapers Cumhuriyet and Sözcü, the mosque's Imam revealed he had not seen anyone drinking alcohol but only doctors treating injured people.