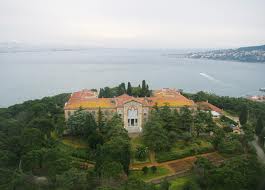 By Manolis Kostidis – Ankara
Recep Tayyip Erdogan has set reciprocity as a precondition for the re-opening of the Theological School of Halki. In an interview with TV network A Haber, the Turkish PM explained the reasons the Halki issue was not included in the democratization package he announced a few days ago. Erdogan stressed "the issue of reopening the Theological School could be solved by us. We discussed it with Greek ministers.
It is a matter of one moment. However, I told them we have two mosques in Athens and requested we are given permission to have them renovated. They always tells us "give, give". They should give something too for once".
The Turkish Prime Minister stressed that at the Synod of the Ecumenical Patriarchate, the Turkish citizenship has been granted to many bishops from abroad. "But is western Thrace we have 150.000 compatriots. The Greek government appointed one mufti to satisfy their religious needs. They promised us they will do something but they have stalled".
Having mentioned the reopening of the Church of Panayia Soumela and the Greek school, Erdogan stressed "we keep opening something but there is no development on their side. We have always supported and not obstructed. We also made sure in some cases water and power was provided free of charge".
Turkish newspaper Milliyet says the Halki issue was included in the democratization package originally but was later withdrawn at the last minute in order to apply pressure on Greece on the western Thrace issue and the Athens mosque issues.