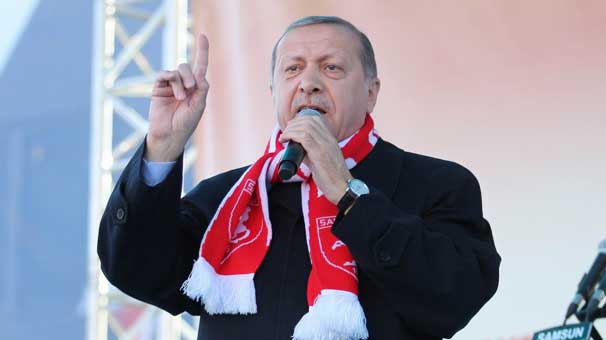 Prior to the critical summit of Varna, President of Turkey, Recep Tayyip Erdogan, toured cities at the northern region of Pontus, giving eight speeches during the weekend in different cities.
In Samsun'da, the Turkish President's speech was very harsh as he said that if Turkey needed to survive, it could kill people. "We will certainly build the big (strong) Turkey, and if necessary, we will give our lives, if necessary, we will take lives", Erdogan said.
"We will not forget the wounds that have opened in our hearts the artificial borders that they have created. After Afrin the revolution begins. Those who believe that my comments are bluff or empty rhetoric they will see that their error is deadly",
He argued that Ankara's military operations will continue in Manbij.
In another speech, Erdogan argued that he would go to Varna with evidence of the Kurds' actions as "terrorists".
"The West wanted to give us knowledge, I told them keep your knowledge for yourself. For everything that has happened we have videos. Tomorrow of course we will meet in Varna. I have made preparations. Tomorrow to show them to them. This people is proud, it has dignity. No one has the right to play games with the pride and dignity of this people".
However, according to information, the Turkish president will be quite harsh at the meeting with Tusk and Juncker and will blame them for failing to honour the Agreement, not to lift the restrictions for the visa to Turkish citizens, but also to release funds for the refugee problem.
Satisfaction has been caused in Ankara from the announcement of the central administration of US forces in the Middle East that Washington has no purpose or goal to withdraw from Incirlik air base in Adana, Turkey. A few hours before the Varna summit, the Turkish president seems to be patching the front with Washington, as it has already been announced that Ankara has begun negotiations for the purchase of the Patriot anti-aircraft missile system./ΙΒΝΑ