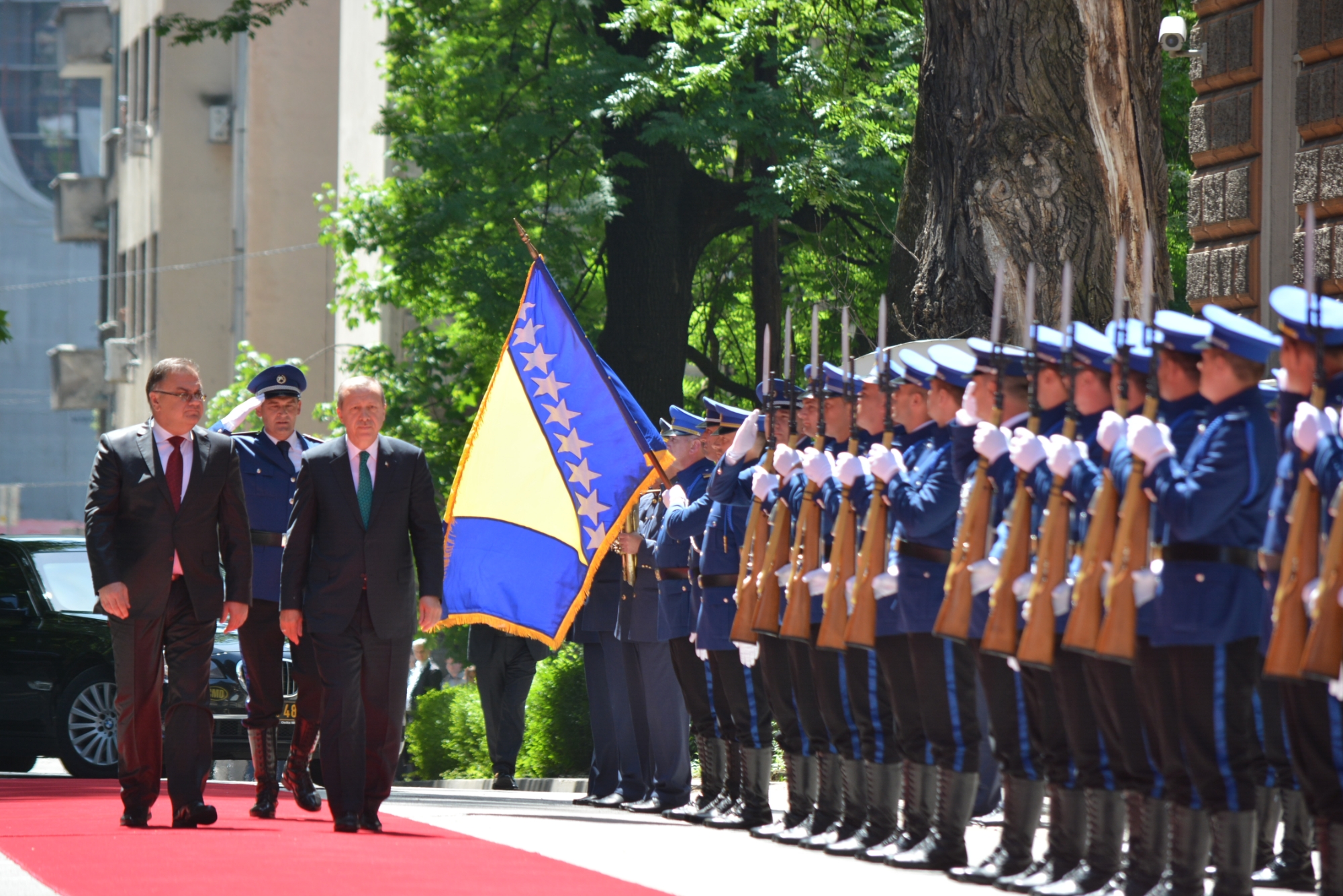 Sarajevo, May 20, 2015/ Independent Balkan News Agency
By Mladen Dragojlovic
President of Turkey, Recep Tayyip Erdogan, said on a press conference in Sarajevo that his country support BiH on the way to NATO and that this support will continue in the future.
"In addition, our support to BiH on its way to EU will continue. Turkey will never abandon this support. In the past, I promised to give 100 million euros and 85 million have already been used. The next 50 million we will dedicate to small and medium size enterprises. Ziraat Bank and its investment packages are the best examples on how to invest", Erdogan said during his visit to BiH.
The Turkish President emphasized that one of the good examples of economic cooperation between Turkey and BiH is the latter's export of meat to Turkey, which has improved the trade exchange between countries. Speaking on security in the region, Erdogan said that Turkey deported 141 BiH citizens which were on the way to join ISIL forces. He stressed that, until now, Turkey has banned entrance to the state to 14,000 persons.
"That is something what you must know", Erdogan said.
He pointed out that the visit of the delegation from Turley is very important for both countries and that it will result in a stronger cooperation on all fields. Erdogan stated that trade exchange between Turkey and BiH is about 500 million US dollars, but that he is not satisfied with that. As he said, the Turkish delegation was comprised of several ministers of the government and businessmen, who will, together with BiH colleagues, work to improve the amount of trade exchange.
Chairman of BiH Presidency, Mladen Ivanic, said after meeting with Erdogan that relations between Turkey and BiH are on high level and that BiH is grateful for the almost 700 projects, valued about 300 million KM (about 150 million Euros), which were implemented by Turkey agency TIKA.
"BiH and Turkey have a high level of economic cooperation and economy was the main topic on our session. We spoke about investments, exchange and creation of conditions for better life of BiH citizens", Ivanic said.
He added that the opening of Turkey's meat market for BiH's products is a great thing for BiH economy, because it means increase of production in the country. Ivanic said that one of the topics was export of BiH dairy products in Turkey because BiH producers are facing problems since Croatia entered the EU. Ivanic expressed his hope that, after the visit of the Turkish delegation, BiH citizens will feel a change and that large number of business cooperation contracts, which were signed during the visit, will lead to the creation of new jopbs.
Erdogan arrived in Sarajevo in the morning and on the square near BiH Presidency building he broke the protocol and went to shake hands with several hundreds of Sarajevo citizens who were waiting for him. After that, he was welcomed at an official ceremony with State honours.
What's interesting is that media in BiH Federation covered the visit of the Turkish president as a first class event but media in Republic of Srpska did not share in the enthusiasm.
Photo: FENA