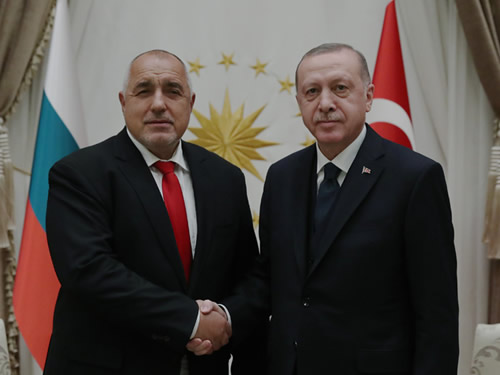 The EU-Turkey Migration Summit which Prime Minister Boyko Borissov tried to negotiate in Ankara with Turkish President Recep Tayyip Erdogan will not be happening after all, as Bulgarian TV channels and journalist Alexander Markov report.
This was made clear at a joint press conference shortly after Erdogan and Borissov wrapped up their private meeting at the Presidential Complex in Ankara on Monday night.
Erdogan initially agreed, but during the meeting there was information that the Greek border authorities had killed two refugees in their attempt to cross the border.
In his statement, Erdogan said Turkey would no longer care for immigrants because of the EU's inability to comply with the terms of the 2016 Agreement. Erdogan stressed it was no longer about the money. However, Bulgaria's Prime Minister hopes to sit down with the European institutions and Turkey.
Today's talks focused on the situation in Syria, the Turkish President stated at a joint press conference.
"We discussed the steps that could be taken to put an end to the fighting in Idlib. In this context, I would like to express my sincere sympathies to the families of those who have been killed. I thank Prime Minister Borissov for his solidarity", Erdogan stressed.
He went on to add that "1.5 million people have left their homes from Idlib and today are found near our borders, staying there. We also talked about the lack of responsibility demonstrated by some Member States on this issue. Unfortunately, the EU countries are still unable to grasp the burden Turkey takes on by hosting more than 4 million refugees. Some time ago I said that in the event that the burden of the refugees is not equally distributed, I will open the border".
Turkey has fulfilled everything from the March 18th agreement, the Turkish President continued. "Unfortunately, our expectation that this burden would be shared did not receive any response. The EU, for its part, has not complied with its commitments from the March 18th statement. The EU still operates with double standards. Even today, some of the major EU countries criticize Turkey's attitude towards the refugees at the border".
"Where is the fair weight distribution? Are we supposed to carry that burden on our own?" Erdogan wondered.
"We have already spent more than $ 40 billion; you promised to allocate 6 billion within one year and the money would not be given to us, but to the NGOs. And were these funds distributed? No", the Turkish President continued.
"Now we're talking to them and I say, they're going to spend 1 billion euros – who are you kidding?
Turkey continues to provide international assistance to those who seek it. Like Greece, all countries must study the pathway of the refugees without looking into their national origin".
Finally, Recep Tayyip Erdogan noted, "Today, two refugees were killed by Greek security forces and one was seriously injured. Based on these considerations, I would like to thank my friend Boyko Borisov and his delegation for their solidarity and to congratulate them on tomorrow's festival.
The situation with the refugees at the border is the result of everything that hasn't been done. The EU has not fulfilled its promises here either", the Turkish President concluded.
The Bulgarian Prime Minister took the floor and thanked the Turkish President for his congratulations to the Bulgarian people on Bulgaria's national holiday tomorrow. Once again, he expressed his and his delegation's condolences.
Regarding the meeting on Syria to be held on Thursday in Moscow, Boyko Borissov said that "I welcome Turkey's wish to find alongside Russia in Moscow on Thursday a peaceful solution, as well as for this deadly conflict in Syria to be given a diplomatic solution. In addition to the victims, hundreds of thousands of immigrants from the region are heading to our borders. I would also like to thank you in your presence for the fact that the Turkish side vis-à-vis your institutions fully complies with the EU agreement on the Bulgarian-Turkish border, thus allowing the Bulgarian citizens to sleep peacefully". Therefore, I reaffirmed this commitment, the Bulgarian Prime Minister stressed.
He continued: "I have made great efforts to hold a trilateral meeting in Sofia in a wider format. Maybe we would have succeeded, because I always rely on the wisdom of my colleagues; but your President then got the news of the killing of the two immigrants".
"Meanwhile, the President was ready to come to Sofia on Friday, but his reluctance to sit down with his colleague Mitsotakis impeded my desire to hold this meeting", Borissov noted.
He went on to add that "my invitation is still on. I am convinced that sooner or later, alongside the European Commission, the European Council, together with our partners, we must have such a meeting; but maybe not everyone is mature enough or they cannot comprehend the huge humanitarian danger that is imminent".
"I am neither the most scared nor the biggest coward, but I am convinced that only through dialogue, peace and diplomacy we will find solutions – and something very important – by respecting the signed agreements; we voted to grant Turkey this money, I cannot understand why they haven't received it", the Bulgarian Prime Minister wondered.
"Burden-sharing constitutes a fundamental principle of the EU. And at this meeting in Sofia, which I hope it takes place one day sooner rather than later, I should thank President Erdogan for accepting the invitation, but he understood that it can't be done without my Greek colleague. God had for Bulgaria, Greece and Turkey to be found in the same region", Borissov continued.
He concluded with a joint press conference with the Turkish President. "I will work hard for good neighborliness and understanding. I will work hard to save those women and children standing at the border. And I hope that the ones who are away from this area make sure, before they speak, that they have fulfilled their conditions. /ibna