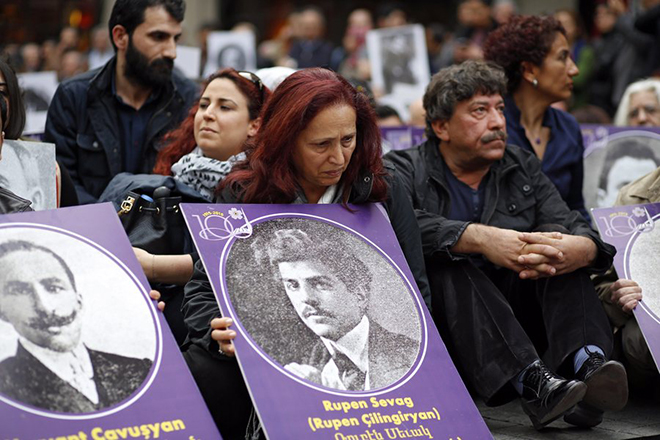 Ankara, June 3, 2016/Independent Balkan News Agency
By Manolis Kostidis
Turkey recalled its ambassador in Berlin as it had done with the Vatican
Recep Tayyip Erdogan reacted to the resolution of the German parliament and stressed that "the relations between Germany and Turkey will be significantly affected", but this did not prevent the 11 Turkish origin MPs to vote in favour of the resolution, recognizing the "Armenian genocide", causing reactions of Turks in Germany.
Erdogan, who is in Kenya on an official visit, when he learned of the German Parliament's decision, said that that "after the return of Turkey's ambassador in Berlin, the Turkish government will discuss the steps it will take in response to the resolution and what needs to be done to resolve this problem".
Experienced analysts argue that that the reaction of the Turkish President was mild, compared to his usual phraseology.
The telephone conversation the Turkish president had with Angela Merkel on Tuesday might have something to do with this.
In Ankara they consider important the absence of both Merkel as the German Foreign minister Steinmeier during the vote.
The vice president of the Turkish government Numan Kurtulmus spoke of a "historic mistake, distorted and unrealistic claims" and added that "this resolution is meaningless and void for Turkey".
"The way to close the black pages of your history is not by marring the history of other countries with irresponsible and unfounded parliamentary decisions", said Turkish Foreign minister Mevlut Çavuşoğlu.
However, the recall of the Turkish ambassador for consultations does not particularly worry Berlin, since in 2015, Turkey temporarily withdrew their ambassadors in Vienna and the Vatican, again due to the Armenian issue. Later they both returned to their duties.
Erdogan sees as important leverage towards Merkel the presence of about 3 million German Turks who vote in German elections. However so far and the protests against the decision have been small.
The allies of the Ottoman acknowledged the genocide?
One of the main reasons that "the resolution recognizing the Armenian genocide" of the German Parliament has caused turmoil in Turkey is not just the refusal of Ankara to acknowledge the fact.
Rather, Ankara believes that the recognition of the genocide by the Germans who were their allies in World War II, puts Turkey in an even tighter spot regarding its position for a lack of a systematic plan for the extermination of the Armenian population of Anatolia.
In 1915, when the slaughter and displacement of Armenians began, the control of the Ottoman Army was in the hands of the Germans, since they were their allies. Commander of the Ottoman army was Lieman Fon Sanders.
Of course, the commands were given by the minister of War Enver Paşa, as well as by the minister of Interior Talat Paşa, but the Germans had knowledge of all developments for everything that was happening on the eastern front.
This is what is stated in the resolution: "Despite warnings from diplomats of that time Germany did nothing to prevent this crime, which is a genocide against Armenians and other Christians and that is a disgrace".