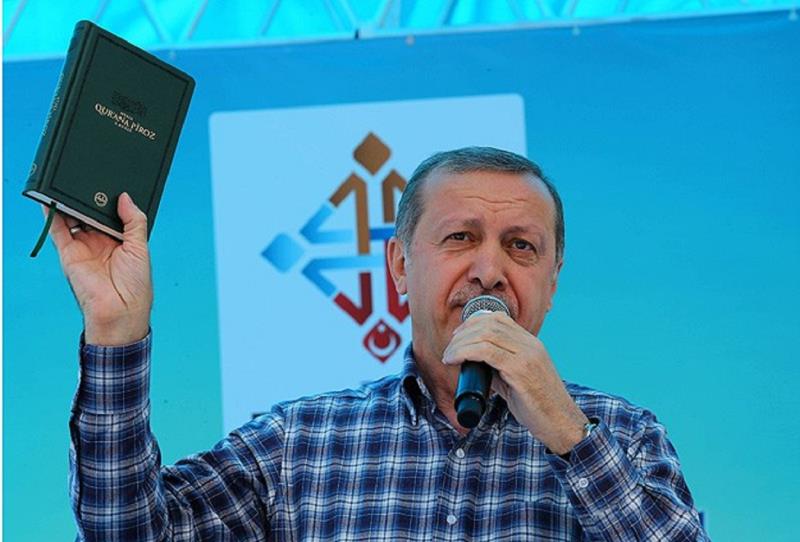 Ankara, May 25, 2015/ Independent Balkan News Agency
By Manolis Kostidis
The strong presence of the president of Turkey Recep Tayip Erdoğan in the election campaign of the AKP and his rhetoric on religion, the Koran, seems to raise the rates of the ruling party a few days before the elections on June 7.
While in early May, polls showed the AKP rates at the level of 40-42%, the average polling results of four companies announced last week show the AKP at the level of 43%. Only one poll shows that the pro-Kurdish HDP will be able to pass the electoral threshold of 10%. Erdogan with Prime Minister Ahmet Davutoglu have accused the HDP as a party of "terrorism". At the same time, pro-government press has slandered the leader of HDP, saying that he wants to abolish the religious classes at school, with the newspaper Akşam going as far as to write that he "eats pork". A heavy accusation, as Muslims are forbidden of eating pork. This tactic, however, seems to have had an effect, as polls show a rise of the AKP's and a fall of the HDP.
The opposition parties complain about the presence of Erdogan in the election campaign, since according to the Turkish Constitution the president should be impartial.
The opinion poll of KONSENSUS
AKP: 43.9
CHP: 26.7
MHP: 15.8
HDP: 9.7
The opinion poll of GENAR
AKP: 44.6
CHP: 25.8
MHP: 15.7
HDP: 9.5
The opinion poll of ANDY-AR
AKPi: 43.7
CHP: 23.7
MHP: 17.6
HDP: 10.4
The opinion poll of DENGE
AKP: 45.6
CHP: 26.5
MHP: 14.7
HDP: 9.5
If these rates are verified then the AKP will definitely achieve self-reliance and will battle for the acquisition of at least 330 seats with which Erdogan can lead the country in a referendum to change the Constitution, concentrating all executive powers to the presidency.